1962 Chicago Cub
Mar 2012
I selected the 1962 Cub as my theme this year because 1) they're as old as me, 2) they stink, like the Cub will this year and 3) it's fun.
The 1962 Chicago Cub: www.baseball-reference.com/teams/CHC/1962.shtml
QOTD
"The Cubs are due... in sixty two"
- Ernie Banks
Look at this excellent photo (source):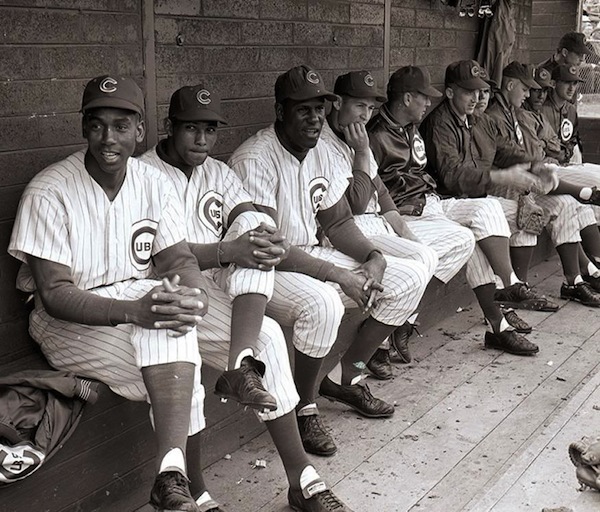 From 1962, that's Ernie, Billy, (big) George Altman, Ronny (biting his nails), etc.
The 1962 Cub are as old as me. They also happen to be the worst Cub team in my lifetime:
OK, hold onto your hat. Put on your seat belt. Let me emphasize this one.
The 1962 Chicago Cub winning percentage was .364
The worst winning percentage
in the history of Chicago Cub baseball!!
Jeez. When you're the worst of the worst, that's saying something.
Weirdness:
The team had 4 future HOF'ers: Ernie Banks, Billy Williams, Ron Santo, and Lou Brock. Of course, Brock was traded the next year. 1962 was his rookie season. Billy Williams was a sophomore, and Santo was in his 3rd year.

The Cub weren't the worst team in the NL. 1962 was also the historically bad year of the NY Mutts, who went an astounding 40-120.

Cub pitching was 3rd worst in baseball giving up 5.1 run/game. The hitting was 4th worst with 3.9 run/game.

The next year, the 1963 Cub were actually over .500 at 82-80.

The 1966 Cub were gawd awful too and has the same 59-103 record. They finished dead last, 10th out of 10 teams. I rank the 1962 team asworst though because of their run differential: 1962 was -195 run, 1966 was -165.

2B Ken Hubbs won Rookie of the Year in 1962. But Hubbs only played one more season, dying in Feb 1964 in an auto accident.

The Cub lost their first 7 games in 1962 and never looked back.

Ernie had 37 homer and 104 RBI to lead the club. G Altman lead the team in OPS at .904 and also led in SB with 19. Billy Williams has 184 hits and scored 94 run.

The best pitcher was Bob Buhl at 12-13 with a 3.69 ERA. Glenn Hobbie was the worst starter, going 5-14 with a 5.22 ERA.

Cub owner PK Wrigley employed a "college of coaches", rather than a single manager. During the two year experiment (61 and 62), none of the 6 different coaches had a winning record. See photo right (source).
The opening day lineup was:
Lou Brock, CF
Ken Hubbs, 2B
Billy Williams, LF
Ernie Banks, 1B
George Altman, RF
Ron Santo, 3B
Elder White, SS
Cuno Barragan, C
Don Cardwell, SP
The lovable losers... with a logo to match.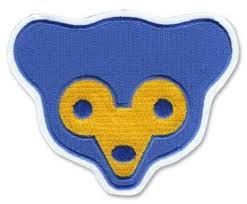 Finally, some tasty links for you:
1962 Cub stats: www.baseball-reference.com/leagues/MLB/1962.shtml
1962 Cub roster, lineup and schedule: www.baseball-almanac.com/teamstats/schedule.php?y=1962&t=CHN
1961-62 weird Cub "college of coaches": en.wikipedia.org/wiki/College_of_Coaches
Photos of 1962 Chicago Cub: www.fanbase.com/Chicago-Cubs-1962/photos
The 2nd All-Star game (they used to have 2) was held in Wrigley: www.baseball-almanac.com/asgbox/yr1962as.shtml

Cub title drought is at 103 years and counting.
I believe that's: AC0366103
eamus catuli... yow, bill
PS - Oh well, it's not all bad to be a Cub fan.