Draft Pics
Love the pics. Enjoy!
2014 Teams and Owners
It's funny. No one in the league has met every other owner. Not even me. Only Brad knows Bayside Nicholas. So, here's a quick and dirty owner index, so we know (sort of) who we're playing.
Ah, the perils of social media. I had to scrounge a lot of this shots. I got everyone but Ryan of RBI's All Day. Next year, Ryan... your likeness is mine!
Here are the 2014 LetsPlay3 teams and owners. Teams are listed in their 2014 draft order.
Team: Plano Tiburon
Owner: Angeero
Connection: Ange is an old friend of Bill's
Team: Bay City Brawler
Owner: Janny
Connection: Janny is Bill's favorite Synopsoid and Californian
Team: Jax Sun
Co-owner: Tom
Connection: Tom is Bill's friend from St.Eth
Team: Jax Sun
Co-owner: Coach Dan
Connection: Dan is Tom's friend and was TY's little league coach
Team: Lazy Robot
Co-owner: TY
Connection: TY is Bill's son and the youngest owner in the LP3
Team: CryoTed
Co-owner: Jay
Connection: Jay is Bill and Rob's friend since back in the day
Team: Plainfield Shutout
Co-owner: Mark
Connection: Mark is Bill's brother and a league newbie
Team: Bayside Tiger
Co-owner: Nicholas
Connection: Nick is Brad's friend, and he owns this restaurant (Wow!)... and he's a newbie
Team: RBI All Day
Co-owner: Ryan
Connection: Ryan is Angeero's friend, and he's a newbie
Team: Vatican City Pope
Co-owner: Eric
Connection: Eric, aka The Poap, is Bill's friend for a zillion years
Team: The Hills Have RBI
Co-owner: Rob
Connection: Rob, Rob's beard, and Bill have been friends for a zillion years
Team: Killer Maltese
Co-owner: Brad
Connection: Brad is Bill's brother... he lives in the Bronx with his wife and (killer) maltese Annabelle
Team: Flying Penguin
Co-owner: Nick
Connection: Nick is the son of Julie, my favorite person at North Central College... Nick is our 2nd youngest owner
Team: KGG 2014
Co-owner: Chris
Connection: Chris is Bill's friend and he's a REAL Commish
Team: Naperville Lunchbox
Co-owner: Bill
Connection: Bill runs LP3 and this website... he's a goof
The Reigning Champion
Before the draft, last year's champion was presented with the LetsPlay3 trophy.
So, here's the 2013 LetsPlay3 champion.
"Your better in every way"... Bill of the Naperville Critter.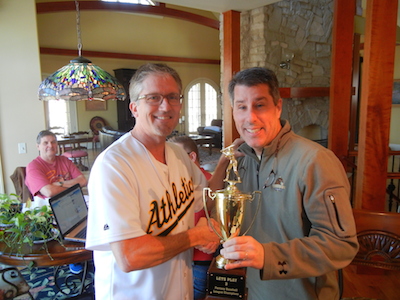 Uncle Jed!
thanks... yow, bill