Zee Playoffs - Wildcard Round
Let's start with the complete Yahoo playoff bracket: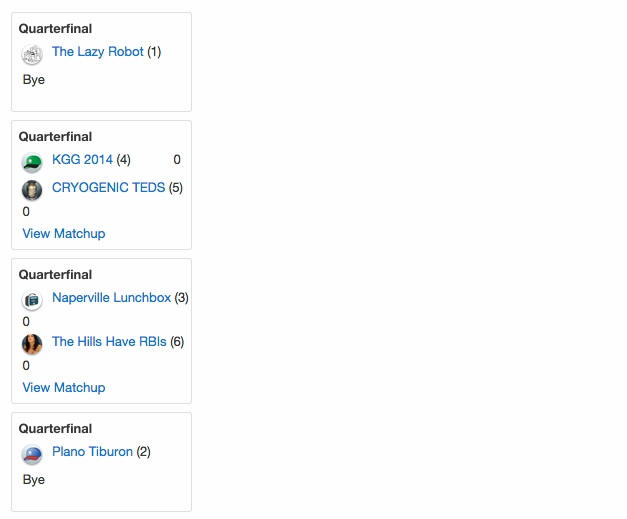 So, we have #1 Lazy Robot and #2 Plano on the bye week. Congrats to the regular season masters of the universe!
The wildcard action this week is...
#6 The Hills @ #3 Naperville Lunchbox

#5 CRYOGENIC TED @ #4 KGG 2014
Naperville holds the tiebreaker with a 5-4-1 season record against The Hills. KGG holds the tiebreaker over CRYOTED with a punishing 13-4-3 season record against the frozen head.


Naperville Lunchbox 7, The Hills Have RBI 3
Naperville controls pitching categories and continues on to the semifinals. Boxscore!
Naperville's pitching was a team effort. The Lunchbox staff swept all pitching categories with a 2.35 era and 1.00 whip for the week.
Bopping was lethargic for both teams. Naperville's MVP NotMike Stanton began the week with home runs on Monday, Tuesday, and Wednesday. The Hills were led by the multi-home run days of David Ortiz and (ex-Lunchbox) Adam LaRoche.


KGG 8, CRYOGENIC TED 1
KGG cruises to an easy victory and the semifinals. Boxscore me!
KGG started the week with 15 rbi on Monday and powered on from there to demolish the CryoTed. Eight KGG boppers produced double-digit total bases for the #4 seed.


Zee playoffs!
wild wildcard... yow, bill