Zee Playoffs - The Championship
Here we go... the Yahoo Championship bracket: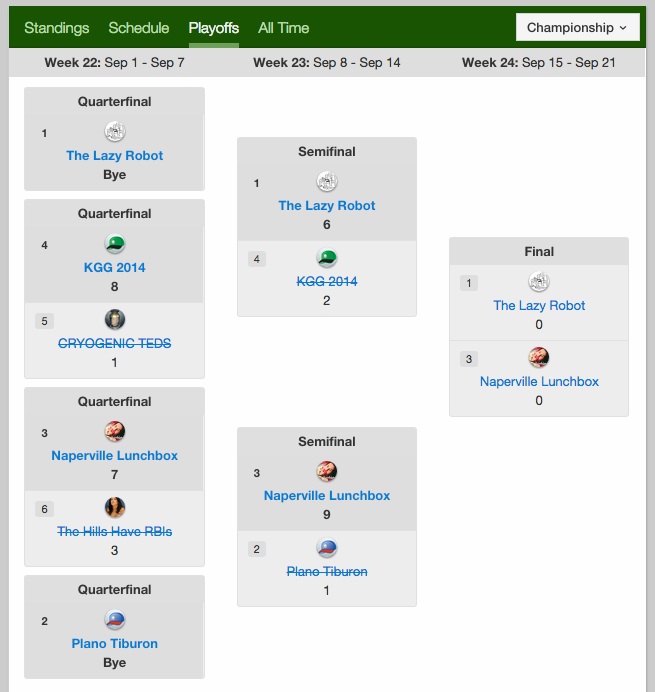 It's #3 Naperville at #1 Lazy Robot.
Game on.
For all the marbles.



Naperville Lunchbox 6, The Lazy Robot 3
And the winner is...

2014 LetsPlay3 Champion
Naperville Lunchbox
Owner: Bill Krieger


Naperville pitching led the team to the 2014 LP3 championship. The Lunchbox won 4 of 5 pitching categories, led by Steven Strasberg who had 2 wins, 12 K and allowed 0 earned runs. Four Lunchbox SP had a Whip of less than one. Rookie starter Jacob deGrom tallied an amazing 23 K for The Lazy Robot.
The Lazy Robot absolutely dominated bopping during the regular season. But the team lost home run and RBI categories and the title to the Naperville squad. The Lazy Robot were led by superstar Jose Altuve with 19 TB and 2 SB during the week. Naperville's Mark Trumbo led all players with 3 home run and 9 RBI over the championship week.
The victory notches Naperville's third consecutive title. This is the first threepeat in LetsPlay3 history.
Here's the boxscore.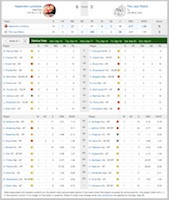 Here's to another great LP3 season. Thanks to all!
thanks... yow, bill