The End
Well, that was fun.
I'm talking about slapping the website together, not the season. That's a-coming.


The End, for real
Sep 22, 2014
Well, first things first. Ahhhh...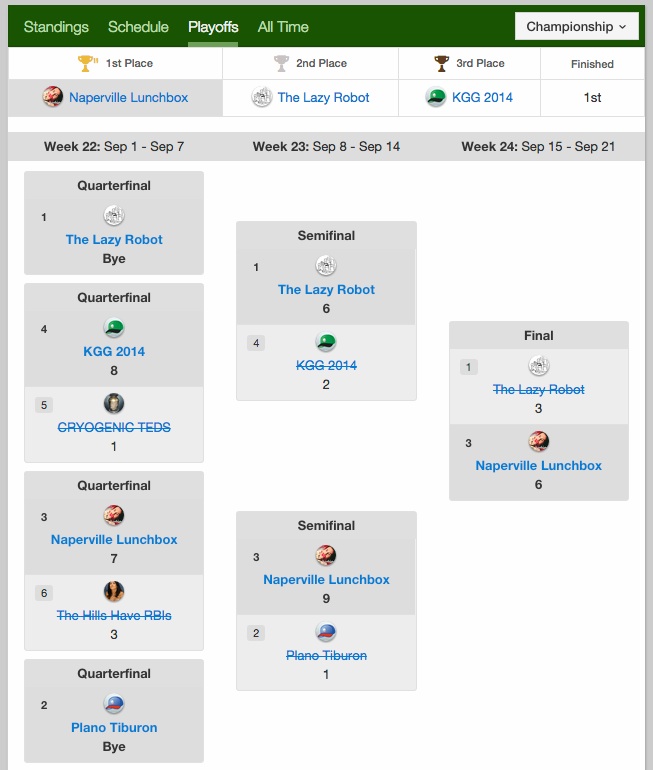 Threepeat
I am certainly digging the threepeat, but it was an odd year. Especially the playoffs. Team performances during the playoffs were just average or below average. And for the first time in quite a while, I didn't think I had the best team, or at least close to best. I thought that there were two teams better than mine.
The Lazy Robot were (pretty much) better than the Lunchbox at every bopping position, especially after my injuries. I definitely had pitching depth, but if the Robot had hit his average 10 home runs in The Finals, then I would have been toast.
With injuries and trades and drops, Naperville had a whole lineup of sluggers that rocked. I think this ex-Naperville team, lead by NotMike Stanton and Gay-Rich, probably would beat the actual Naperville Lunchbox on most weeks.


LP3 status
The Naperville threepeat is nice, but how's the overall health of LetsPlay3? Next year will be the 12th season for LetsPlay3. Our trophy will be full. Ha!
I think LP3 health is pretty good. Perhaps we'll see a few people leave, but it's not so bad to cut back to 10 or 12 teams. I'm not quite sure how to add new blood at this point, but the old-timers still seem fully engaged. Threepeat... bah! LetsPlay3 is still a very competitive league.
I can't think of any rules changes that I would make at this point.
I

love

the straight draft.
I like the new rule giving each playoff team 3 moves per round, rather than carrying them over from the regular season.
I like the head-to-head tiebreaker that Yahoo uses in the playoffs. It gives extra meaning to each week during the regular season.
The only thing that nags at me is that home runs overlap with 3 other cats: run, rbi, and total base. But I can't think of a solution. If we dropped home runs, then which pitching category would we drop? And dropping dingers would suck some of the fun out of the league.


Website
This is my favorite website design of all my fantasy years. I like the (nifty) two-part format: 1) the faux iPhone/iPad format, and 2) ballplayers born after 1990.
The website featured 16 young ballplayers, all born after 1990. The stories behind these 16 guys turned out to be quite a soap opera.
Starlin - had a comeback year for the Cub, but still proved to be a lunkhead with an ankle injury on a terrible slide
Mike Trout - will win his first MVP trophy this year, even though this is probably his worst year of his 3 MLB seasons
Jose Altuve - leads THE BIGS in hits and batting average, has 50+ steals and is the Astros clubhouse leader... a great ballplayer!
Bryce Harper - injured again and took a step back this year in production... is Bryce going to be great or just good?!?
Trevor Rosenthal - a mixed bag with 40+ saves but was inconsistent. Will the Cardinal move him into the rotation next year?
Jean Segura - not injured, just pretty much a total fail... was he a one-year wonder?
Manny Machado - injured again, dop
Avi Garcia - injured for most of the year, Avi's still a top prospect for the White Sock
J Profar - injured all season
Jose Fernandez - injured all season but he's still on everyone's top 5 SP list
Michael Wacha - injured most of the season, still a future ace
Puig - He was a stud up to the All-Star break and then completely crashed and burned... he's too athletic not to succeed, right? RIGHT?
G Cole - Injured most of the year, I still think he'll be a stud SP
Xander - Woof. He had a really tough year, but like Puig, he's too athletic to discount
Taijuan Walker - He struggled and was injured... his future is a tough call and the emergence of uber-rook James Paxton in Seattle puts him on the back-burner
Billy Hamilton - He'll lead the league in SB this year. But who is he? Billy rocked before the All-Star break (.285 average) and then crashed and burned (.204 average). One more thing... those 60 steals came with 23 caught stealing and only 72 run scored. Dop.
As for LetsPlay3 victory, I still say... draft young, draft BIG. Ha!


The end of the end
That's it. Next year. Huzzah!
thanks... yow, bill