Mon Sep 21, 2015
Well. It's the top 2 teams in LetsPlay3 history battling once again: Naperville and KGG. Evil and Eviler. For the flipping title.
#3 Naperville Weener @ #1 KGG
Naperville's lucky number is 4. The team seeks the elusive (and unprecedented) quad-peat, a 4th consecutive title.
The KGG is playing for the 3rd title in team history and their first since 2011. Naperville and KGG have won 6 of the last 7 LetsPlay3 championships.
Down the rabbit hole we go. Once again.
zee playoffs... yow, bill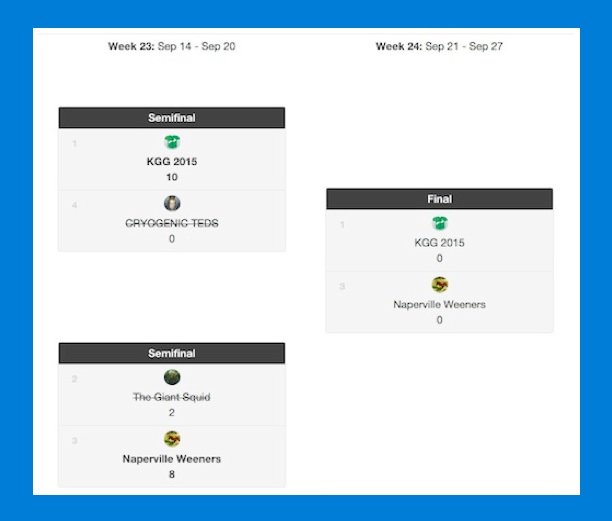 ---
Mon Sep 28, 2015
The #1 KGG romped in the Finals Week to the team's third LetsPlay3 title. Huzzah!



2015 LetsPlay3 Champion
KGG 2015
Owner: Chris Commish Martin

KGG 6, Naperville Weener 4
The KGG cruised to the championship powered by superior pitching and timely hitting. KGG got quality starts out of nearly every starter on the team. Closer C Kimbrel excelled with 2 win and 1 save. The top KGG bopper was Khris Davis with 4 home run and 19 total bases over the week.
Naperville hit well, led by Lucas Duda's 3 dinger and 12 rbi. The Weener had 6 boppers with double-digit total base counts. But the team's pitching struggled leading to only 3 wins and 1 save over the entire week.

All the Championship details are here: KGG 6, Naperville 4 - full Championship boxscore


Congrats to the KGG, our 2015 LP3 Champion!
---