NIBL 1998
Champion: Manila DogEaters
The inaugural season of the NIBL was great fun. We started a few weeks into the 1997-1998 NBA season because it took us a while to get our shit together. The season was 21 weeks long, and we had 16 teams. We cheated a little bit though and NIBL historians will recall the one-year wonder Ottawa Strippers, run jointly by co-commissioners Bill and Johnny Rai in addition to their regular NIBL entries Aruba and Cap City. Whew, that was a bad idea.
Anyway, regular season champs West Chicago (19-2) and Aruba (18-3) seemed headed toward a clash of the titans in the playoffs, but that was not to be. The Women (as they were known then) and the Thong were upset in the first round of the playoffs by Walla Walla and Manila, repsectively. It wasn't easy though, as each playoff series went the maximum 3 games.
The Manila-Walla finale was a nail-biter as well. In the third and deciding game, a 44 nibl game-of-his-fricking-life score by Detlef Shrempf of the Seattle SuperSonics propelled the Manila Dogeaters to the first NIBL title in history. This also propelled your humble commish to the plaque store to puchase the Michael Jordan Plaque to be awarded to Denise DogEater. Having the plaque engraved with the winner's moniker prompted the clerk to sarcastically utter "a girl won your basketball league?" This pretty much sums up the first year of the NIBL.
NIBL 1998 Champion Summary
| | |
| --- | --- |
| Owner | Denise Raimondo |
| Regular Season Record | 15-6 (2nd in East conf) |
| Regular Season nibls/game | 287 (4th best) |
| Conference Playoffs | Beat Aruba 2-1 |
| Championship | Beat Walla Walla 2-1 |
| | |
| --- | --- |
| Starting Lineup | |
| F | K Garnett, Min |
| F | D Schrempf, Sea |
| C | A Sabonis, Por |
| G | S Cassell, Njn |
| G | D Wesley, Cha |
And the money shot at next year's draft...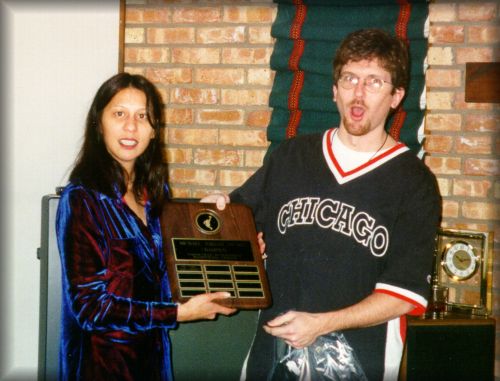 Feb 6, 1999
Head DogEater, Denise Raimondo (left), accepts the
Michael Jordan plaque as the first ever NIBL Champion in 1998
by goof co-commissioner Bill Krieger (right)

Wisdom from the NIBL's first champion:
Q: What was your secret?

A: "Get a good-looking team... good shoes, a nice hairdo. size. That's about it."

Q: Is your husband angry about all your success?

A: "He vents his anger, if you want to call it that... ah... ah... no, nothing."

Q: When will you win your next title?

A: "This year."

Q: Won't that make your husband angrier?

A: "Well, he'll get angry with... um... nothing..."

Q: Last comments?

A: "I don't really eat dog."

- Denise Raimondo, Champion NIBL 1998