Lucky 13
Feb 2, 2000... Bill Krieger
Quote of the Day
"At this point in Hakeem's career...
I think he's more comfortable with that role"
- random NBC announcer on Hakeem Olajuwon coming off the bench
and playing 20 minutes a game for the Houston Rockets
---
Response of the Day to the Quote of the Day
"dop"
- Bill Krieger, owner Aruba Thongs
---
Lucky 13
Week 13 was kind of funky...
Cancun and Walla Walla had (I think) the first tie in NIBL history. Of course, in NIBL land, the tie goes to the home team, so Walla wins. Don't get too droopy now Cleavage! The rest of the East thanks the lads over in Walla-land.

Our bad-luck owner of the year continues to be newbie Bill Sullivan, owner of the lackluster Four Lakes Swan Dives (I mean Bolts). Last week, Four Lakes had Joliet (Best of the West) all wrapped up and pulled Saturday night scores of 5 nibls apiece out of McDyess and Kendall Gill. Ugh. Four Lakes turns an easy win into an ugly 26 point loss.

Woe to Cap City who tossed down an impressive 329 nibls last week, without the services of first-round pick Grant Hill (whose ass hurts). Diablow shellacked the Tools 350-329 as Shaq and Kobe fired on all cylinders. The Spawn get the victory and continued free room and board... go figger.

Elk Grove celebrated the return of Tim Hardaway by dropping the worst game of the week to Aruba 252-228. What a stinker... We are, however, fortunate to have some exclusive photo coverage of the Aruba/Elk Grove thriller below courtesy Danny "Diablow" Bruessel, our cub reporter in Elk Grove: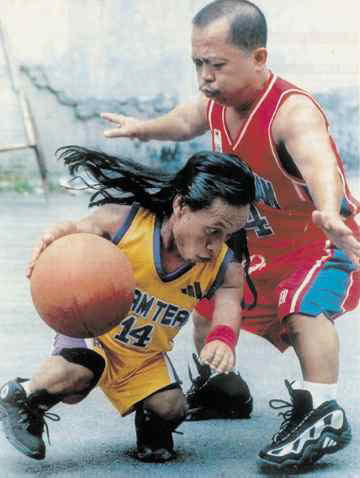 Game of the Weak: Aruba vs. Elk Grove
(net-scarfed by: Danny Bruessel)
---
Week 13 was lucky for devoted NIBL lovers. I have added "winning percentage" to the standings tables in the snapshot and standings pages. This will correct the bug of not ordering the table correctly (yes, you are in first place Denise... ugh). I do, however, apologize to Elk Grove for adding more zeros (a 0.000 winning percentage) to their already dismal byline.
I think that I finally fixed the stats page as well. Team pages coming soon... right.
---
Another Quote of the Day
Here's one for the road...
"Including times when I was alone?"
- Howard Stern caller responding to
Howard's inquiry 'when is the last time you got laid?'
---
I'm sure you've seen the state-specific quarters that they've had out for a while. Well, you can check out those and also the new gold dollar coin at www.usmint.gov ... it's pretty cool.
yow, bill