Who wants to "Do" a NIBL winner!
Feb 28, 2000... Heywood Jablowmee
NIBL commissioner Bill Krieger today announced that the league has inked an exclusive agreement with Darva Conger, winner of the recent "Who Wants to Marry a Multi-Millionaire" TV show. Though terms of the agreement were not released, the 34 year-old Miss Conger has apparently agreeed to have sex with the winner of the current NIBL season for a collection of trips and prizes to be provided by the league.
"I'm ecstatic," claimed Mr. Krieger. "It's rare to find a young lady with so much national exposure who is willing to publicly spread her legs like this." When asked about the renumeration Ms. Conger will receive from the NIBL for her duties, "Shit, we'll fly her to Vegas if she wants. There's a ton of junk jewelers in Naperville too... maybe we'll buy her a pubic zircomium," laughed Commissioner Krieger.
Ms. Conger, pictured below on ABC's "Good Morning America", said of her new involvement with the NIBL, "I have worked my whole life to be a credible person. Unfortunately, in two hours I destroyed much of that credibility. And that's one of the reasons that I'm here. I'd like it back."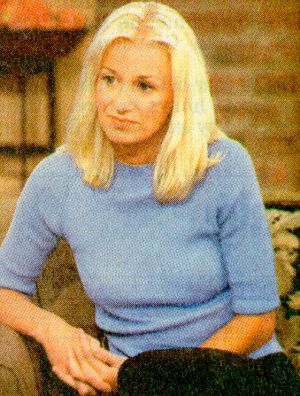 Mr. Krieger was also asked about a possible link between this media stunt and recent rumors of a NIBL public stock offering. "First, I won't comment on rumors. Second, of course, this kind of publicity is invaluable for the league. Darva's a little bottled up after her recent non-honeymoon, so it was just a natural for both parties."
Asked about the season-ending sex act Ms. Conger said, "Maybe we'll like each other and get along. Maybe we'll even date..." When asked about the fact that sex was not included in her brief TV honeymoon she replied, "I don't think I was thinking clearly. I commited an error in judgement."
As opposed to the TV show, the NIBL agreement with Darva Conger, apparently, is quite clear about the requirement for sex. "Well, we're not gonna give the the stuff away before the sex... what sense would that make," said Mr. Krieger. "The best thing about this whole deal is that Aruba has no chance of winning this year, so I personally don't even have to worry about shaking hands with this loser. What a great country!"