Luck 'o the Vermin
Jan 22, 2001... Young Bill Krieger
QOD
I found this quote in the Trib in an article about urbanites getting rid of their kitchens because they never use it.
"How much room does it take to store a bottle of vodka"
- A New Yorker who's planning on getting rid of his kitchen
---
Heaving Las Vegas
Man, the East is brutal. Week 12 scores: Aruba 347, Napa Valley, 345, Cap City 344, Vegas 341. Geez. Aruba, Napa, and Cappa turned their 340+ scores into victories. Unfortunately for Vegas (and the rest of the free world), he was playing Cap City and lost by three lousy nibls.
Story: Saturday night, I powered down around 10:45 (fifteen minutes of Saturday Night Live is my usual limit), and I figured I'd check the Vegas-Cap City score. A little www.nba.com and post-it pad math and here Tommy is down by 4 nibls with 7 minutes of Keving Garnett 4th quarter play to go. Pick up the phone... hey, Tommy looks like you're in good shape. Clang, brick, slip, blap, splat... KG, scattered amongst a forest of turnovers and missed shots, picks up a single nibl (a blocked shot) in the final 7 minutes of the 4th quarter of a close game. He finishes with 43 nibls, three short of what Tommy needed to win. Phone Tommy back? Nope... go to bed.
I can't believe the luck 'o the Vermin. Vegas is now 6-6, even steven. Who cares, screw 'em... until you notice that Vegas has lost four games by 10 or less nibls: Napa by 7, West Chicago by 6, Cap City by 10 and again by 4. That is fucking brutal. Of course, if Vegas beats Cap City twice instead of losing, then Tommy's in 2nd place rather than languishing in 4th, three games off the leaders. Lastly, let's compare the Vegas Vermin to another team in the NIBL:
| | | | |
| --- | --- | --- | --- |
| | Record | Nibls scored | Place |
| Vegas | 6-6 | 3769 | 4th |
| West Chicago | 10-2 | 3757 | 1st |
The amazing thing? It's happened each and every year to Tommy in the NIBL. I think this year is the worst yet though.
It was raining tears in Rip City last week as well. 'Tucket grabbed sole possession of 2nd place from the Rippers with a 343 to 332 victory. Marcus Camby's tirade against the mighty Danny Ferry, and resulting suspension, forced the Ripper into their bench where Rob positioned Rodney Rogers as his 6th man. Dop. Rogers pulls in a tasty (but tiny) 7 nibls, and Jack is popping the champagne. Why didn't Rob play Cuttino Mobley or Larry Johnson as 6th man (either of which would have given him the victory)... got me?
Speaking of Cap Shitty... read the next blurb...
---
From the Left Coast
I received this little blurb from my GNABO guy on the left coast:
Hello Mr. Krieger,

Well, from the West coast, among the core group of NIBL fans --- there is a very strong concensus: Everyone is pulling for Cap City --- to maintain the Dana Court effect --- but also because J. Rai has endured a great deal, it seems...

There is also universal concensus that Mr. Triol is favored to beat Mr. Fenton... Fenton is hated. In fact, its lamost like he is the BAD wrestler and Johnny Rai gets to play the Hulk Hogan...

Anyway...We are all sorry to see Diablo go the way of the American Buffalo... Cest la vie, they say.

Best wishes,

M. Jesse Jackson

GNABO rep
Interesting how, no matter the culture, the location, the race, religion or background, there are some constants in the human experience: rooting for the underdog (Johnny Rai) and a strong dislike of Don Fenton. These are the bonds that connect us all.
---
QOD 2
"It's like a spongy liver"
- Guy on Howard Stern on eating the placenta from his daughter's birth
---
Second Banana Week
Let's look at the interesting match-ups this week, and you'll see why week 13 is "Second banana week":
A couple leaders are taking the week off: West Chi @ Walla, Joliet @ Cap City

Only Napa Eric is being tested this week in his contest at St. Louis. Of course, if St. Louis can't score more than 257, then maybe it'll be a virtual bye week for the Tasters as well. On the other hand, Napa Valley hasn't been north of 300 nibls since Christmas! how is this guy in first place?

I think the game of the week is Rip City at Elk Grove. Rip City loves to score in bunches (not unlike Johnny Raimondo with the temp staff at Wireless Concepts), and Moz touts the two-headed monster of Shaq and McDyess. Should be interesting. By the way, anyone notice that Denver has climbed into the 8th playoff spot in the NBA Western Conference? In their last meeting, Elk Grove took a switch to the Rippers. Well, Rip City will want this game badly after his loss last week to the Buckets.

There's a good game in the East too: Vegas at Aruba. Now, Vegas is struggling, and Aruba has found his legs during a 3 game winning streak. In their bloody first battle, Vegas eeked out a 4 nilb win. Vegas needs another squeeker to stay in touch with the big boys in the East. Prediction: Vegas loss by less than 10 (see above).
Should be fun... oh yeah, note to Manila against Burlington this week... play a couple a starters this time, hon.
---
Dry-freezing Update
For those of you following along... in my previous notes of Jan 12, I showed photos of the amazing Itchy, the dog freeze-dried after its death. Well, I received some dis-believing emails, so here's a follow-up. I present Linda, another freeze-dried dog: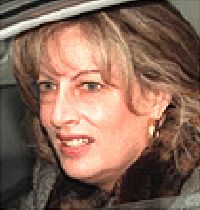 Linda, freeze-dried dog
---
NBA Playoffs
Have you checked out the NBA playoff situation? Here's a link to get the lastest playoff standings from the NBA: http://www.nba.com/score_stat/standings.html
There's some interesting goofiness going on here:
The teams in the East that are playoff locks (4+games ahead of the 9th team) are: Philly, New York, Milwaukee, Miami, and Charlotte.

The 6-7-8 teams in the East currently are: Toronto, Cleveland, Indiana. Cleveland is dropping fast with all their injuries, and the Cavs are being chased by Orlando and Atlanta.

Western Conference locks are: Portland, Sacramento, Lakers, and Phoenix

The Midwest division in the West is a knot: Utah, San Antonio, Dallas and Denver are all within 2 games of each other. Denver is 2 games out of first place in the Midwest and a #2 seed in the Western Conference... huh? Minnesota, Seattle and (barely) Houston are still in the hunt.
If you had a crystal ball, you would have to expect Utah and San Antonio to make the grade in the West and Dallas or Denver to fall to Minnesota or Seattle. Of course, the NIBL playoff implications of these final two spots will be, you guessed it, HUGE.
---
QOD 3
"Photography is like hunting. Your camera is the gun... your film, the bullets."
- Joe Speno, my Photo 101 instructor
---
Speaking of photography... where's the fucking sun! See ya.
yow, bill