Alright, Beat This
Feb 12, 2001... Young Bill Krieger
QOD
This quote works on many levels:
"Weakness is provocative"
- Donald Rumsfeld, W's new Sec of Defense
---
Beat the Beaters... Please
Sigh.
Don Fenton... I know, I know... I get more email any time I mention Don and his dreaded West Chicago platoon. So, before I get started, let me tell you that Don and the Beaters are as irritating to me as all the rest of you. I just glimpsed the subject header for Don's lineup email this week ("Just back from Hawaii and two more wins!"), and I shudder.
So, let's look at the Beaters:
The Beaters lost their first two games (including a game to the MIGHTY Thong) and have since rattled off 13 straight victories.
Don's lead in the West is now a virtually unassailable 3 games. In fact, playing the creampuffs in the West, West Chicago is two games better than anyone else in the league.
I guess it goes without saying that this season will extend Don's reign as the best all-time NIBL record.
Well, if your cup is half full... 5 of Don's last 10 games are against the three runners-up in the West: Tucket, the Ripper, and Shaq Grove. So, anything is possible... but probable? No. Don's in the playoffs.
For this week, however, the hopes of the free world rest on the puny shoulders of Diablo Danny Bruessel. Can Danny stop the Beater juggernaut? Well, anything is... oh, forget it.
---
POD
Submitted for your approval... a little twist on the "quote of the day" concept... I present "Picture of the Day":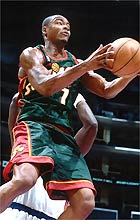 - Rashard Lewis celebrating Gary Payton's injuries and bad attitude
with many many nibls for the MIGHTY Thong
---
Movie Review
First, a note to all movie reviewers and the Oscars regarding "Hidden Dragon, Crotching Tiger"...
WAKE UP!
It's a stupid Kung Fu movie, for Christ's sake!
Thanks. I'm okay now.
Did anyone else see the previews for Arnold Schwarzenegger's new movie "Vacation Man"? Looked pretty good... Arnold is posing as a common ordinary guy named "Don", but he's really a secret agent caught in a web of international intrigue. He tries to do good, but is sent unwittingly to one vacation spot after another by the evil forces of anarchy.
Vacation Man: (Please apply your best Austrian accent) "Where am I? Why am I here?"

Bad Guy: (Arab or German or something): "You're on vacation again, Don."

Vacation Man: "But why, I just got back from vacation."

Bad Guy: "That's right"

Vacation Man: "But I can't... I have important superhero work to do." [flexes muscles]

Bad Buy: "Settle down... your parents are right here with you."

Vacation Man: "On vacation... with my parents... again! Aaaaahhhhhh! Fuck you ass-hooooollllll" [Arnold falls into special effects vortex of sun, sand and fruity drink umbrellas]
Pretty good preview... I think that was Buffy the Vampire-Chick playing the role of Vacation Man's girlfriend. She's left alone, unprotected at Vacation Man's arctic home while he literally cracks the coconut of all his travel mysteries.
Girlfriend: [on the phone] "When are you coming home? It's cold over here!"

Vacation Man: "What did you say? I dropped the phone... suntan oil, you know."

Girlfriend: "Don, please come home!"

Arnold: "Can't talk now honey... I have to meet Mom and Dad at the buffet. Mmm Papaya..."
---
QOD2
"Mom! Dad! Watch out for that palm tree!"
- Arnold Schwarzenegger as a palm tree explodes in "Vacation Man"... coming soon!
---
The Teams Worse than West Chicago
I guess it's okay to spend a few keystrokes on the rest of the league. Okay , Don?
Second best team in the NIBL right now? Gotta be the NIBL's friendliest team: the MIGHTY Aruba Thong. The Thong story is sort of a diluted version of the Beater's travails. Aruba started the season 1-3 and since the return of second-round pick, Jalen Rose, Aruba is 9-2... including a painful 4 nibl loss to Vegas. The Thong have averaged just shy of 350 nibls over the last 5 weeks!
Shocker in Cap City last week as Napa grappled first place in the East from the struggling Tool squad by a meager two nibls. Came down to Raef LaFrentz on a hot Saturday night in Toronto... Napa needed 22 nibls from Raef LaFrentz and got 24. Napa leads the East and Cap City falls into a tie for second place with the surging Aruba Thong.
While Don Fenton glides, the rest in the West continue to beat the crap out of each other. Tucket currently holds second place, but Rip City and Elk Grove are right there. Rip City may have found gold playing the Houston backcourt of Francis and Mobley. A happy and healthy Shaq and McDyess will make Elk Grove really really tough to beat.
Kudos to cellar-dweller Manila on a four game jag, including a victory over front-runner Cap City. The DogEaters have gone from a potential Shaq lottery candidate to one game under 500. Rip City is quaking in his boots this week.
---
Final thanks to the boys at Microsoft... played with FrontPage 2000 and got it to delete most of www.williamt.com for a couple hours. Party on boys!
yow, bill