Happy New Year
12/31/2000... Young Bill Krieger
Happy New Year to everyone!
The good news: I have a Ty update. The bad news: It's only photos up through August. Oh well, I'll hop on it after the first. Till then:
Family Photo Album (click on "Summer of 2000")
---
Story of the Year
The non-story of the year 2000 was obviously the Y2K non-crisis. The consensus on the story of the year 2000 is the presidential election debacle. Stolen from the Daily Herald, here's the best commentary I saw on the whole thing: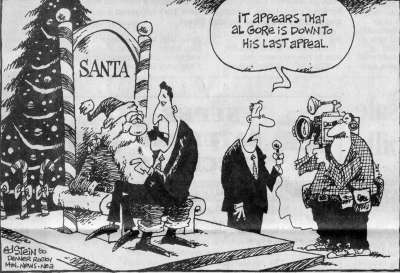 W is no picnic, but at least we don't have to hear Gore's droning for four years. My motto: Go Gridlock!
---
QONY
Quote of the New Year
"Every Day!?!?"
- Felecia's reaction to my suggestion of a New Year's resolution:
to have sex every day in 2001
---
2001 Preview
I resolve to update the lousy page more often next year. Here's a preview of things to come!
and
Hope y'all have fun... in 2001!
yow, bill