1. Semi-finals
Zee playoffs begin.
The Hills staged a mighty comeback to win a 4-team battle (Killer Maltese, Poap, and FRY) for the last playoff spot.
This contest was much closer than its score belies. The Hills actually outslugged the beefy Oriole. But exhausting all roster moves in a getting into the playoffs, The Hills couldn't match an array of pitching that led the Oriole to the playoff win and a date at the Finals

.
The KGG relied heavily on unlikely stars M Morse and M Napoli to advance to the Championship round. The contest was close from the onset, but the Brawler never had the "big day" hitting or pitching that the team needed to advance.
Let's play three!
2. Championship
Zee end. #1 versus #2 for all the marbles. Oriole v. KGG. Go!
KGG 2011 4,
Naperville Oriole 4
(boxscore)
KGG wins on the playoff tiebreaker (see below)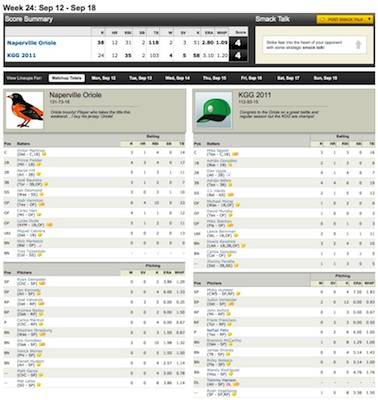 From Yahoo's playoff tiebreaker rules (link):
In the event that a playoff game ends in a tie, the deadlock is broken using the following system:

Winning percentage against this opponent during the regular season. The winning percentage is based on individual stat category wins and losses, not match up wins and losses.
Playoff seed.
Cat tallies from 3 regular season Oriole-KGG games are: KGG 14, Oriole 13.
So, the winner is...
2011 LetsPlay3 Champion
KGG 2011
Owner: Chris the Commish
The championship week featured a dozen twists and turns, with the lead changing multiple times on the final Sunday. The title came down to 2 key plays for the KGG:
On Saturday: L Berkman stole his first base of the season.

Late Sunday afternoon: A Beltre slugged a home run off King Felix.
These plays garnered ties in SB and Home run categories for the KGG, enabling the team's ultimate victory.
Congrats to Chris and the KGG on his 2nd title.
next year... yow, bill

...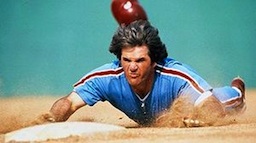 ...
Quiz answer: Carlos Beltran has the highest success rate stealing bases at 88.1%. That's pretty amazing, but This is a little bogus, because I don't think they have stats on caught stealing going all the way back. That's a pic of Beltran at the bottom.
Source: en.wikipedia.org/wiki/Stolen_base_percentage
If you like stolen base records (and who doesn't), here's the whole magilla from Wikpedia... pretty cool:
en.wikipedia.org/wiki/List_of_Major_League_Baseball_stolen_base_records