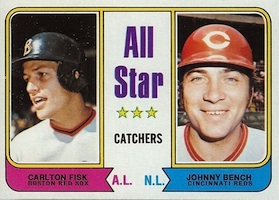 All-Star Team
Monday July 15, 2013
Those are all All-Star baseball cards up at the top there. Duh. The Pete Rose card is his 1970 All-Star card. That's the year he ran over Ray Fosse in the most famous (in my lifetime) moment in All-Star game history.
And there are your 1974 All-Star catchers to the right: Carlton Fisk and Johnny Bench. Those dudes are OK, I guess. Ha!
The LP3 All-Star team is the best player at each position based on Yahoo rank. Go!
2013 LP3 All-Star Team
Pos
Player
Yahoo Rank
Team
C
Buster Posey (sfo)
63
Bay City Brawler
1B
C Davis (bal)
2
Flying Penguin
2B
J Kipnis (cle)
14
Vatican City Poap
3B
Miggy (det)
1
Aperture Mantis Men
SS
J Segura (mil)
11
KGG
OF
CarGo (col)
3
Danks for Nothin
OF
M Trout (laa)
5
KGG
OF
Adam Jones (bal)
7
Vatican City Poap
DH
P Goldschmidt (ari)
6
KGG
SP
C Kershaw (lad)
4
Plano Tiburon
SP
A Wainwright (stl)
8
Naperville Critter
RP
Joe Nathan (tex)
42
Call o Baseball
RP
J Grilli (pit)
45
Killer Maltese
P
M Harvey (nym)
9
Cryogenic Ted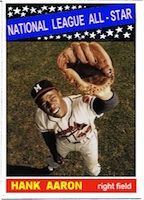 All-Star Blather
And that makes your easy first-half MVP:
Miggy Cabrera of the Aperture Mantis Men


Miggy is following his triple crown year with an even better one. Miggy is joined by upstart Chris Davis to rock the league as, by far, the two best players in the first half of 2013:
Miggy - 73 run, 30 homer, 95 rbi
Chris Davis - 70 run, 37 homer, 93 rbi
Miggy and Chris Davis are #1/#2 in each of those categories... except for faker tourist Matt Carpenter's 72 run scored. BTW, if you own Matt Carpenter... SELL!!!
The Mantis selected Miggy 2nd overall in the draft. I say kudos to the Mantis Men, but it wasn't exactly a surprising selection. The Flying Penguin took C Davis in the 6th round, and I think many of us scoffed. That's a great pick by the rookie Penguin!
Prediction: Miggy will overtake Chris Davis' 7 home run lead and race to the triple crown once again. We'll see. BTW, Miggy's batting average is .365, which is 40 points better than 2nd place M Trout.
Here's the LP3 All-Star 2nd team:
C - Yadi Molina, Ap Mantis Men
1B - D Ortiz, Flying Penguin
2B - Robbie Cano, The Hills
3B - E5 Encarnacion, The Hills
SS - E Cabrera, Call o Baseball
OF - J Ellsbury, Brook Bomber
OF - McCutch, Flying Penguin
OF - Dom Brown, Jax Sun
DH - A Beltre, KGG
SP - Mad Max Scherzer, KGG
SP - P Corbin, KGG
RP - E Mujica, Poap
RP - C Kimbrel, CryoTed
P - J Zimmerman, Flying Penguin
Every team has a first or second team All-Star player, so there's no one to taunt, really. Kudos to late-round all-stars: M Harvey in round 14 by the CryoTed and J Segura in round 16 by the KGG.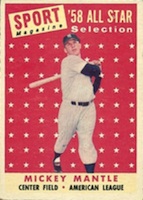 The All-Star team mirrors the LP3 standings. Thus far, 2013 has been dominated by the KGG. The KGG sport 3 All-Stars and 3 2nd-teamers. Shit, we only have 14 guys in a lineup. Ha!
The KGG weekly victory laps have made the team as popular/infamous in the LP3 as the Miami Heats are in the NBA... but nuts to that. When you crush the league statistically as the KGG has in the first half of 2013, you don't need to be demure. The KGG should be alone leading the pack by 10 games, not the sliver of a game that the standings currently show.
Will the KGG stroll to the 2013 title? Will Miggy have his back-to-back triple crowns? Will the Cub have a .500 season? (snort)
We shall see. A great second half to everyone!
peace... yow, bill