Hi Bill! This page is in reverse chronological order.
The theme this year is baseball cards. Click on the card to see a full-size image.
You can email me here: williamt@williamt.com
That's it. Enjoy!
thanks... yow, bill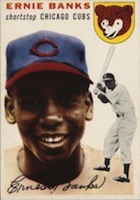 Th-th-that's all folks
Monday Sep 23, 2013
The 1954 Ernie Banks rookie card costs many, many dollars. You can hustle bunnies over to ebay and find a near mint Ernie rookie card selling for more than $2,000. Notice how Ernie signs his name "Ernest Banks"... excellent!
Ernie Banks made a strong start to his HOF career in 1954. He batted .275 and hit 19 home runs. As Ernie would experience over and over again during his 20 year career... his Cub team stunk, with a 64-90 record.
Alas, Ernie finished 2nd in the voting for Rookie of the Year in 1954. A guy name Wally Moon won. Wally was an OF for the Cardinal (boo!) and had 193 hits and 106 run scored in his rookie campaign. Wally was a good ballplayer, but, unlike Ernie, Wally Moon never duplicated his rookie season.
That's a wrap. Go!
Critter win! Naperville is the first LP3 team to win back-to-back championships.

It was another outstanding year of fantasy baseball goodness!

We'll see everyone else next year.
Peace out.
thanks... yow, bill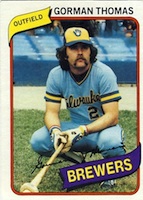 Stats are up
Monday May 6, 2013
The 1980's Brewers had some dang good ballplayers including, of course, HOF'ers Paul Molitor and Robin Yount. The Brewer, then in the AL, went to the World Series in 1982 and lost to the Cardinal in 7 games.
But Gorman Thomas was my favorite Brewer. He homered. He struck out. He had the best fu manchu moustache in the bigs. Best of all... Gorman Thomas was angry. He didn't smile. He didn't smirk. He just scowled every time you saw him. Intense.
Gorman Thomas struck out before it became fashionable. His best seasons were when he struck out the most:
1979 - 45 homer, 123 rbi, 175 K
1980 - 38 homer, 105 rbi, 170 K
I wondered what that intensity would be doing, 25 years after quitting baseball. Here's a couple of worthy stories, if you're interested. In these interviews, Gorman seems like a genuinely nice guy.
Stormin' Thomas reconnects with Lowcountry roots, Citadel baseball - "I love the game, I always have and I always will. I miss it with all my heart, I feel like I still can play even though I'm 62 and just had knee replacement surgery so I know I can't. My heart is in it, my heart will always be in it, I watch it religiously and read the box scores every day"
Milwaukee Talks: Gorman Thomas - "It was so much fun just to come to the ballpark. I couldn't wait to get here. And after the game was over, we didn't leave. We'd hang out, two hours after the game, we'd have a couple cola's and just talk about the game. It was absolute great experience. I miss it. I really do. The camaraderie. The silliness, the stupid little things we would do just for fun. It was fun. I can't embellish it too much for you. It was great. Just great."
Gorman Thomas is 62 now. He's a little worse for wear, but who isn't. He he.
OK, the point of this blather: my auxiliary stats are up at the "Regular Season" page. It's on the menu bar at the top. I've split the weekly stats into separate files so they're (hopefully) more readable. Let me know.
thanks... yow, bill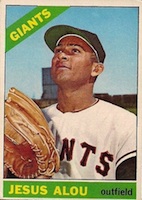 A Great Draft!
Easter Sunday Mar 31, 2013
Jesus Alou. Easter Sunday. Get it? A little pagan humor there. Ha!
Jesus was the least accomplished of the MIGHTY Alou brothers: Matty, Felipe, and Jesus. But hey, Jesus Alou still spent 15 years in the big leagues. Not too shabby.
Just FYI. Ex-Cub Moises Alou is Felipe Alou's son.


The draft was yesterday. It was a beuatiful, sunny March afternoon. The results are posted at the Draft Results link above.
I'll sneak this in the middle so no one will notice. I had a wonderful time at the draft. Baseball draft day is always very special to me. We have a great group of guys (and girl) in our league. It's truly amazing to me that LP3 is now 10 years old and stronger than ever. Thanks to all of you!
Some special draft day thank yous:
Thanks to our newbies (Nick, Jack and Lowell) who all did a great job!
Thanks to Angeero on his return to the league. It's great to see an old friend again!
Thanks to The Poap for, once again, taking excellent draft notes! You gotta love that Catholic school penmanship.
Thanks to Chris the Commish for manning the Chatzy chat room for our long-distance drafters.
Speaking of... thanks to our long-distance drafters (Brad and Janny) for rocking, as usual.
Thanks to Kyle for bringing some fancy beers, drinking one, and leaving the rest for me. Ha!
And huzzah to our old-timers: Rob, Jay and even Ty.
Draft Day began with a couple beers, and then... the presentation of the LetsPlay3 trophy to "your better in every way", our reigning LetsPlay3 champion:
2012 LetsPlay3 Champion

Bill Krieger, The Naperville Rebellion
Chris the Commish presents Bill Krieger with the coveted LetsPlay3 trophy.
Alright. Enough already. On with the 2013 season! I'll see you in 6 months. He he.
thanks... yow, bill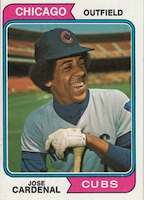 Draft day/time set
Saturday Mar 9, 2013
Jose Cardenal played 5-6 years for the Cub in the 1970's. He wasn't a great ballplayer, but he was one of the most beloved Cub of that era because of what you see to the right there... smiling, positivity, and a guy who really hustled on the field. He was also known for sporting one of the largest afros in the game as well.
I was surprised to see that Cardenal played more than 2,000 games in MLB. He was a nice, little player. www.baseball-reference.com/players/c/cardejo02.shtml
We're set on a draft day/time:
When: Easter Saturday Mar 30 @ 3:00 pm
What: LetsPlay3 2013 fantasy baseball draft
Where: The Castle, 1219 Bonnema Ct. in Naperville
Please come early... any time after 2:00. We'll hoist a couple and tell tall tales.
Here's the current draft order:
Tom - Jax Sun
Ty - Aperture Mantis Men
Brad - Killer Maltese
Commish - KGG
Newbie: Nick - The Flying Penguins
Newbie: Angeero - Plano Tiburon
Newbie: Jack - Call of Baseball
Newbie: Lowell - Brook Bombers
Rob - The Hills
Janny - Brawler
Kyle - Ventura
Poap - The Poap
Jay - CryoTed
Bill - Naperville Critter
We have 4 fun newbies this year. Nick is a Naperville North teeny-bopper, the son of my friend Julie. Nick's strengths are soccer and dancing with girls. Angeero is returning to the league after a long absence. He immediately reclaims his title as "Nicest Guy in the LP3". Jack is a friend of Ty's from good ole Madison Jr. High. Jack is a reckless, intense rebounder, so give him his space. Lowell is my sister Julie's husband. Lowell's likes are Florida State and Risk. His dislikes are Tim Tebow and the cold.
I think that's it. Remember...
We have a straight draft again this year. No more snaking around for us.
You newbies, don't sweat it. Just bring a list of players and have fun. Look in the menu buttons above, and click on "Helpful draft links" for some tasty lists. If you're struggling, shoot me and email.
Per usual, I'll have free beer and crappy pizza after the draft.
Don't be late. Be early and hang out. We start at 3, so we can muddle through the draft chop chop. If we finish at 6, then the lads can shoot some hoops afterward.
peace... yow, bill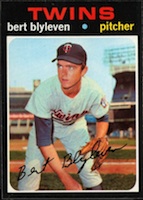 Pre-draft
Sunday Mar 3, 2013
There's nothing really special about this card. I just like Bert Blyleven. Here's his baseball reference page: www.baseball-reference.com/players/b/blylebe01.shtml.
Well, that's not entirely true. The 1971 series of Topps baseball cards was amongst the coolest they ever produced. The black background was like a hot chick: easy on the eyes, but high maintenance. It's tough to find 1971 cards that are in perfect shape, and therefore their prices are higher than say a 1970 card.
Blyeleven is Dutch. Rik Aalbert. I like the missing "c" and the double "a". He he.
QOTD
Bert Blyleven (born Rik Aalbert Blijleven, April 6, 1951) is a former Major League Baseball pitcher who played from 1970 to 1992, and was best known for his curveball.
Blyleven was born in the Netherlands, but raised in Garden Grove, California.
- en.wikipedia.org/wiki/Bert_Blyleven
OK, here's the draft order this year. I am assuming that the Mini-Commish and Ry's Rebel are out this year:
Tom - Jax Sun
Ty - Aperture Mantis Men
Myles - FRENCH FRY
Brad - Killer Maltese
Commish - KGG
Newbie
Newbie
Newbie
Rob - The Hills
Janny - Brawler
Poap - The Poap
Kyle - Ventura
Jay - CryoTed
Bill - Naperville Critter
Tentative draft day is Saturday Mar 30, 2013. Location: The Castle.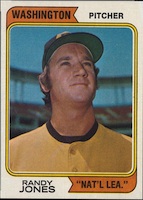 A Pulse
Sunday Mar 3, 2013
Ok, let's see. I have a pulse. And let's go!
The theme this year is baseball cards. I was thinking of narrowing it down more to something like rookie baseball cards or Cubs cards or "mistake" cards (Jeter 2007 coming soon) or something, but I don't want to harsh my mellow with a bunch of rules. Though, for the record the top of this page has 3 Cub rookie cards: 1977 Bruce Sutter, 1983 Ryne Sandberg, and 1966 Don Kessinger.
This looks pretty cool: www.baseballcardpedia.com. Initial impression: they need more pictures, and I don't think it sees too much activity. Anywho, here's an explanation of the weird Randy Jones card up there to the right.
QOTD
After the 1973 season, the San Diego Padres were rumored to be relocating to Washington D.C. Fifteen cards (13 players, the team card, and a Rookie Prospects card) of the Padres were printed either as "San Diego Padres" or "Washington Nat'l Lea." The latter are the scarcer variety and are denoted in the checklist below.
- explanation of weird 1974 "Washington" cards, baseballcardpedia.com link
Some fun links:
Looks good. Rather. Looks good enough.
2013 LP3. Huzzah!
thanks... yow, bill