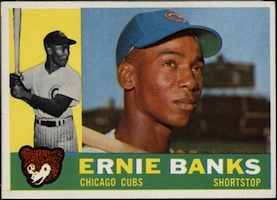 Draft Day!
Satruday Mar 30, 2013
The 1960 Mr. Cub card isn't much. How'd they get him to smile? It's a tough card to find centered and properly cut, so it's a little more valuable than the usual 1960 HOF'er card. Topps manufacturing was still a bit quirky 50+ years ago.

Well, we had an excellent draft and a great time. Thanks to all!
Just a reminder for next year... we used chatzy for our long-distance drafters. Chatzy is a very nice online chat room website. It's nice because it's free and there's no ads, no registration, no email, no Flash or other installs... no nothing. And it works like a charm.
I don't know how long these chat room thingies last, but here's the link to the chat room we used during the draft:
Our 2013 drafting order:
Tom - Jax Sun (via list)
Ty - Aperture Mantis Men
Brad - Killer Maltese (via chatzy)
Commish - KGG
Newbie: Nick - The Flying Penguins
Newbie: Angeero - Plano Tiburon
Newbie: Jack - Call of Baseball
Newbie: Lowell - Brook Bombers
Rob - The Hills
Janny - Brawler (via chatzy)
Kyle - Danks for Nothin
Poap - The Poap
Jay - CryoTed
Bill - Naperville Critter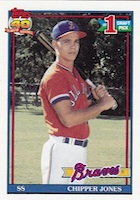 Draft Results
That's a Chipper rookie card to the right there... en homage to Larry Wayne Jones who retired last year after a glorious 20 year career in the big leagues. He will be a no-brainer first-ballot HOF'er.
Some stats, please. Chipper's average season over his career: .300 ave, 105 run, 105 rbi, 30 home run (baseball-reference link). Amazing! Chipper was one of the very best players of the 90's and 2000's.


OK, logistics first:
The draft was Sat Mar 30, 2013 at The Castle.
14 teams. Straight draft. No snakes for us.
We did 18 rounds live. The last 2 rounds will be done online on Monday and Tuesday.
Here's my grab of our draft results. Cick on the icon to see the results (unless you have microscopic super-vision).
| Rounds 1-6 | Rounds 7-12 | Rounds 13-18 |
| --- | --- | --- |
| | | |
And most importantly... Mister Irrelevant, the last pick of the draft, the 252nd player chosen:
Marco Estrada, Naperville Critters
Lets Play THREE!
thanks... yow, bill