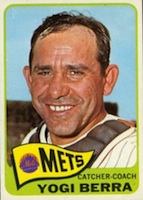 Championship round!
Monday Sep 16, 2013
Classic managers on this page: Whitey, Durocher, Casey Stengall, Yogi!
Whitey Herzog's nickname is one of my all-time faves... The White Rat.
Excellent. He he!



Here's the complete Yahoo playoff bracket: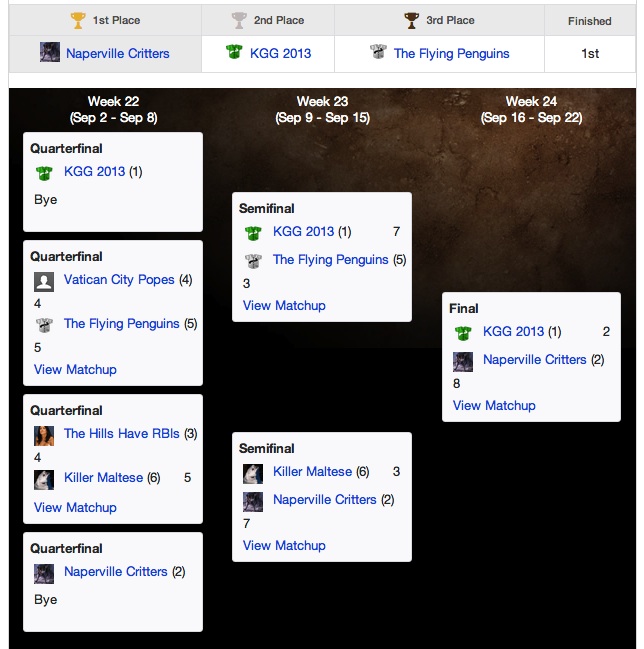 And the 2013 winner is...


2013 LetsPlay3 Champion

Naperville Critter

Owner: Bill Krieger


Details!
Naperville Critter 8, KGG 2
The championship was much closer than the 8-2 final score indicates. Nearly every category was hotly contested. A huge Sunday run propelled the Critter to the title!
The KGG was led by superstars Mike Trout and Paul Goldschmidt as each launched 3 home run during the week. Rookie 2B Jedd Gyorko hit 2 home run as well, but the rest of the cast was either silent or missing games due to minor injuries.
At the end of Saturday, the Critter trailed. Sunday's games included a doubleheader and Critter boppers responded with 4 home run and 30 total base. Following its regular season script, Naperville's attack was balanced with 7 different players hitting dingers during the week. Significantly, the Critter added Billy Hamilton and LaTroy Hawkins during the week to capture steal and save categories.
The 2013 title is Naperville's 2nd in a row. The team is LP3's only back-to-back champion.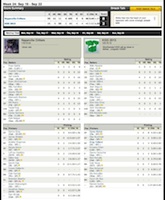 Another great LP3 season comes to a close. Huzzah!