Vatican City Pope 5, KGG 5
At about 6:00 Sunday prevening, KGG closer Adam Ottavino took the mound in the 9th inning to close a 3-2 lead for the Colorado Rockie. The game was featured on MLB TV. A clean inning by Ottavino, with no hits or walks, would give KGG the Whip category... and the title. Ottavino struck out the first two batters he faced on wicked curve balls. But one out away from a KGG repeat title, Corey Seager smashed a towering home run that tied the game for the Dodgers and gave the LP3 title to The Pope. Wow!
The KGG bopping was led the resurgent performances of M Franco and J Upton. Each had 3 home runs. But KGG pitching fell down to poor performance and injury.
The Pope superstars played well in the title game, led by P Goldschmidt and Joshy Donaldson. Jose Ramirez of the Cleveland Injun surprised with 5 run, 5 rbi, and 18 total base. Vatican City pitching was nearly as bad as KGG, but the team did win 3 of the 5 pitching categories which was key. The team also won runs scored and stolen base, two cats the team led the league in during the regular season.
Congrats to Vatican City on their second LetsPlay3 title!
zee playoffs... yow, bill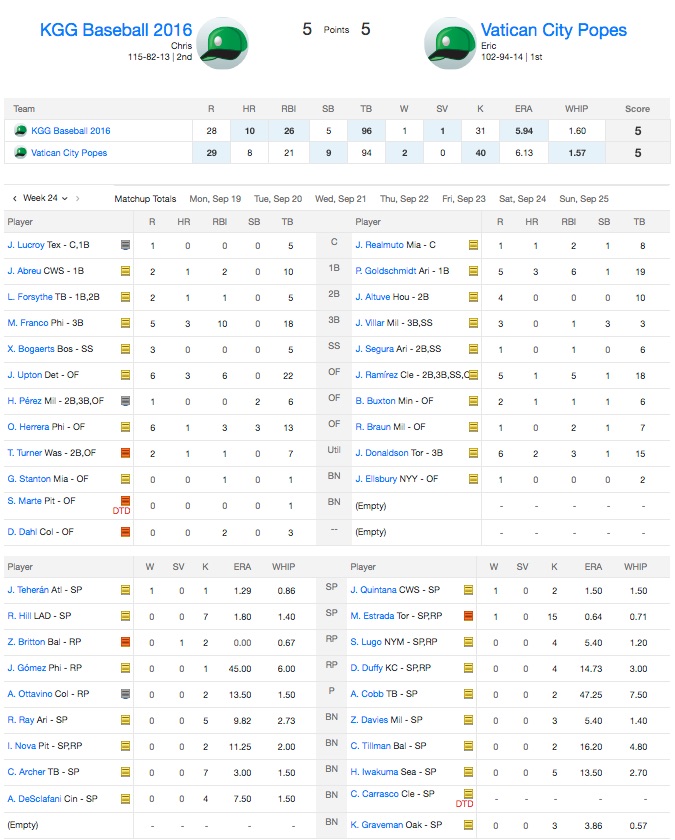 Sadly, Miami Marlin starter and team leader Jose Fernandez was killed in a boating accident on Sunday morning, Marlins star Jose Fernandez dies in boating accident at 24. Jose was one of the most talented and popular players in the entire league. He had electric stuff and an electric, larger-than-life personality as well.
As a result of Fernandez's death, the Atlanta Brave vs. Miami Marlin game was canceled. This had some fantasy impact as the KGG lost a start from J Teheran and The Pope lost their catcher J Realmuto on Sunday. Did that impact the outcome? The contest was so close, it's impossible to say.
Jose Fernandez. Rest in peace.