LetsPlay3 (LP3) is a fantasy baseball league based here in beautiful Naperville, IL.
LP3 is: friendly, strong since 2004, head-to-head, 5x5 format (but with total bases instead of batting average), chockful 'o father-son combos, and way fun! We use this (crappy) auxiliary page for extra stats and tracking the history of the league.
We're a Yahoo league: baseball.fantasysports.yahoo.com/league/letsplay3
Email me at: williamt@williamt.com
This season
Before we get 2017 started, bow down to your better in every way... our 2016 champ, The Vatican City Popes. Huzzah!
You'll find all the minimalist 2017 action right here, baby:

LetsPlay3 Fantasy Baseball - 2017 Season

Bullet List of Champions
And here's the money... the champion for each LP3 year: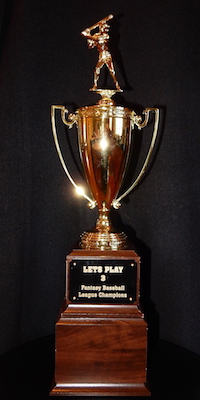 The rest
Here are some other (old, ragged) pages in the site:
about.htm - an introduction to the league and fantasy baseball (yawn)
history.htm - the history of our little league
stats.htm - fun stats over the years (for nerds)
That's it.
lets play three... yow, bill
PS - Email me... williamt@williamt.com