Here's some blather... a wrap of the 2016 LetsPlay3 fantasy baseball season.
thanks... yow, bill


2016, year of the home run
First, the MLB. This season is the biggest home run surge since the steroid-filled days of 1999-2004. Here are some tasty stats for you.
103 players have hit 20+ home runs. This ties the all-time record in 1999. That record should be broken this week.
MLB teams are averaging 1.166 home runs per game. This is runner-up to 2000.
The home run rate per atbat has jumped from 2.28% in 2014 to 3.06% this year. That's about a 33% increase!
And here are a couple worthy home run articles for you as well.
2016 year of the home run in MLB, thanks to a notable middle-infield power surge, cbs story
Why 2016 is the Year of the Home Run, yahoo story
Here at the LP3, Naperville set season bopping records in home run, rbi, and total base. My favorite home run record though occurred on Thu Jun 2, 2016... when The Flower hit 8 dinger in one day. The boxscore is below. That 23 homer total is a record for one week.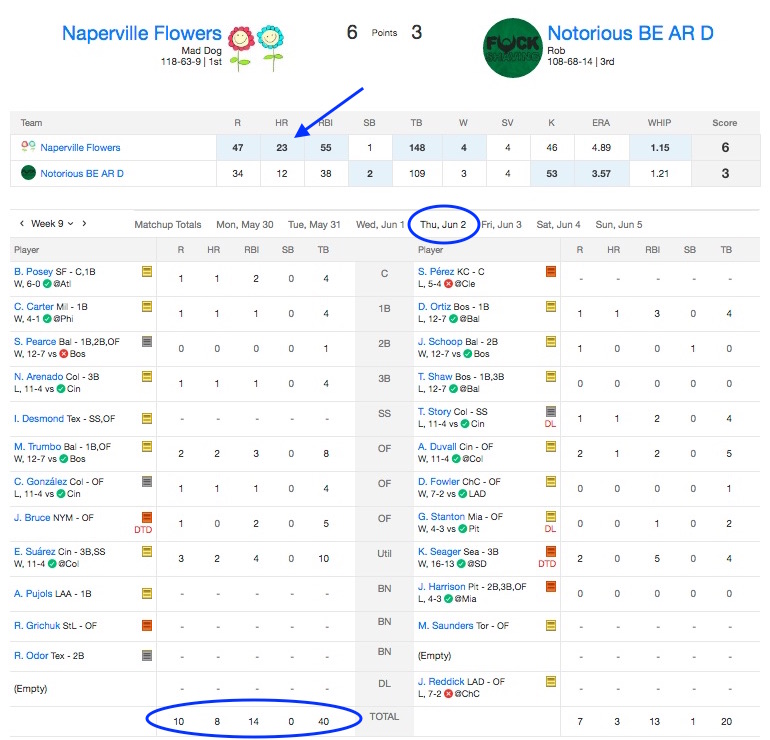 And just to keep us on our toes, neither of the two LP3 finals teams, KGG or Pope, were heavy home run teams. They both average less than the league mark of 9 homers per week. Indeed, Vatican City won the title this year despite being out-homered in all 3 of the team's playoff games.


Close playoffs
The margin of victory in all 5 playoff games was 6-4 or less. This seems to happen most years... LP3 playoff games are almost always close, exciting affairs. It's a noddle-scratcher.
Of course, the 2016 title game ended 5-5, with Vatican City winning by the playoff tiebreaker: head-to-head record during the regular season. Even this closest-of-all results has happened numerous times before.
I enjoyed watching the last atbat of the LP3 season. With the KGG one out away from a .03 swing in Whip and the title, Corey Seager launched a game-tying homer off KGG closer Ottavino, and Vatican City was victorious. Very fun. Very exciting!


We are strong
The league feels strong. We're spittin' in the wind, of course. Baseball is in decline. The games are too long and slow. The season is a marathon. And fantasy baseball is... (high-pitched whine) "too hard, wah!" The new social media generation has the attention span of an emoji. ☺
So be it. I'll continue to search for new blood... lobbying any warm body under the age of 40. We have young guys TY and Luis. I'd love to re-recruit The Mini, who is attending college in Miami now. And when will Syd the Kyd have her own team?!? (he he)
A few years ago, we adopted a straight draft to 1) be more like regular sports leagues, and 2) to punish playoff teams, making it harder to repeat. Next year, I will lobby vigorously to put more pressure on playoff teams. I'd like to reduce the number of moves available to playoff teams from 25 to 15. Stay tuned.
Anywho, that's a wrap. Thanks to everyone in the league... good friends. And here's to next season. Huzzah!
thanks... yow, bill


PS - A little postscript irony... Who's the MVP in 2016, the year of the home run? Well, it's 5'9", 180 pound Mookie Betts, of course. As I type, Mookie's stat line for the season: 119 run, 31 homer, 109 rbi, 26 stolen base, and 352 total base. Amazing!