Season in Review
Aug 1, 2005
Just doing some accounting... clean-up... tying loose ends.... for the 2004 season. The archive of the 2004 season is all below.

BJ Tucker, owner of the MIGHTY Kiluaueuaea Vog... our 2004 champion: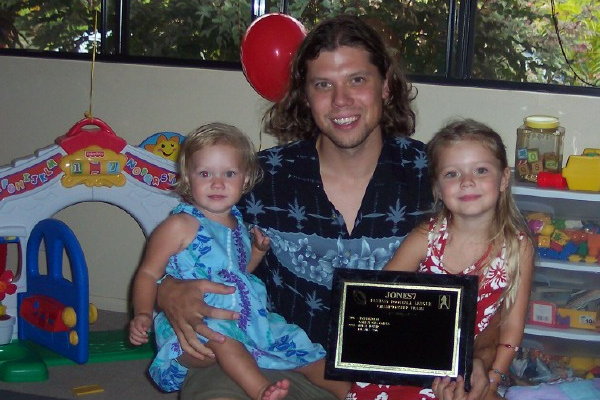 ...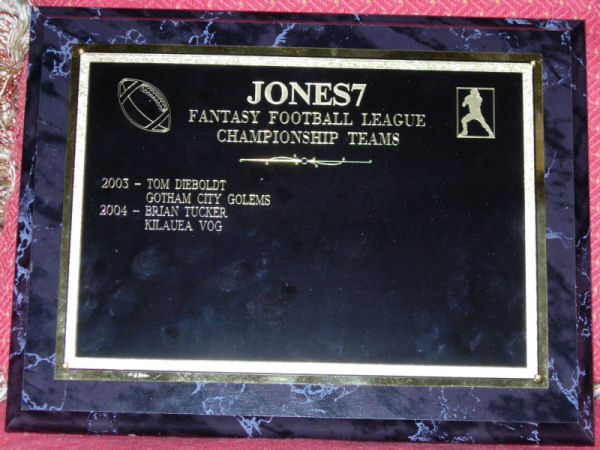 OK.
yow, bill

---
Da Champs!
Bow down to the 2004 champs:
2004 Jonesy7 Champions
...
Kilauea Vog
Owner: BJ Tucker
---
Playoffs
All the goodness of Jonesy playoff action...
---
Stats
Brand, spanking new!
Nerds love the ladies and statistics... a little better luck with the stats, however. These stats tally the points scored at each team's position (QB, RB, WR, K, D) for the entire season. Excel and I have also added the requisite totals, ranking, averages, etc. Points against is also there.
Enjoy:
Week 13 ... Week 12 ... Week 11 ... Week 10 ... Week 9 ... Week 7
---
Notes
Dec 8, 2004
Playoffs are here. Please enjoy the 2004 All-Jonesy team:
Oct 17, 2004
Nice two month break there. Dop.
Couple goodies:
A final update to the 2003 season page... a picture of our better in every way, Golem Tommy, collecting his Jonesy7 plaque during this year's draft. Must see! The Jonesy7 2003 Season
Here's the 2004 draft... for posterity's sake. Jonesy7 2004 Draft Results
icehouse... yow, bill
---
Aug 17, 2004
Jonesy owners, the draft is this Saturday at 6:00 pm. Please check out all the important stuff at the Draft Page.
---