Payton34 Fantasy Football - 2012 Season
Welcome to the something-th season of Payton34 fantasy football!
We're a Yahoo league: football.fantasysports.yahoo.com/league/payton34_football. This auxiliary page just lets me communicate with my league homies and serves as an archive over time.
Everything for this season is jammed on this page, in chronological and Bear player-ranking order. Go:

That's it. yow, bill
1. Pre-draft logistics
Aug 8, 2012
Who's the best Bear of all. Julius Peppers. Duh.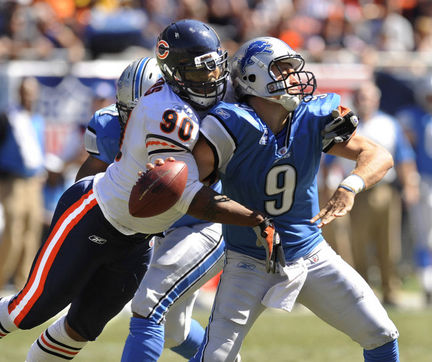 Football!
So far, so good. The draft this year:
When: Sat Aug 25, starting in the afternoon between 3 and 5 (TBD)
Where: Casa Commish in Aurora... I'll email you the address
We are shooting for 14 teams again this year. The draft order depends on who shows up at the draft and last year's standings (link).
One change from the past: our draft will be straight up and down, not a snake draft. For example, the champion Chicago PinkHat will select last in every round.
hike... yow, bill
2. Draft bulletin board
Aug 15, 2012
The second best Bear isn't all that difficult either... Jay Cutler.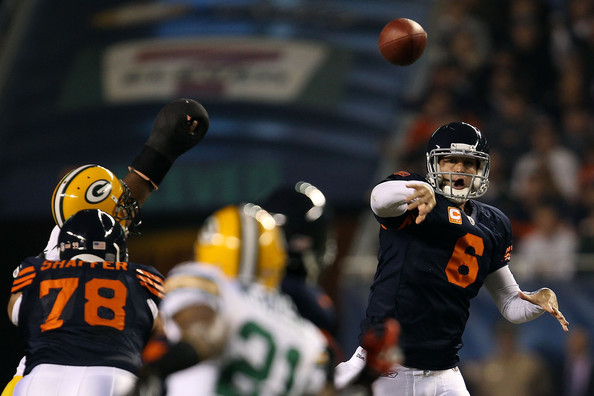 Kudos to the KGG. This is a (sweet) online bulletin board that will be updated while we draft.
Note: I pulled the bulletin board code out of the page because we didn't use it this year. It's still in here but commented out. Peek at the source for this web page if you want to grab it.
3. Draft details
Aug 18, 2012
The third best Bear... Brian Urlacher.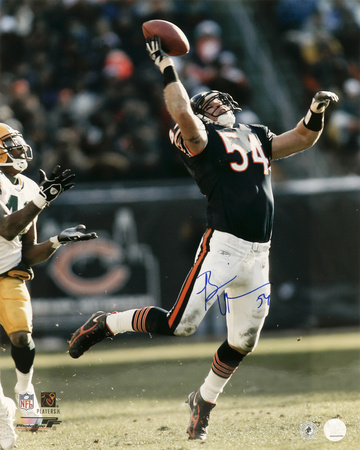 The draft this year:
When: Saturday Aug 25 @ 5:00 pm

Where: Casa Commish in Aurora

What: 2012 Payton34 draft. Draft starts at 5. So, please show up any time after 4.
The rules are the same as last year with one exception: We're doing a straight draft this year, no snaking. The rest still applies: 6 playoff teams, 14 round draft, lineup is QB, RB, RB, WR, WR, RB/WR, TE, K, Defense. See the Yahoo league for scoring.
Here's the draft order for 2012.
Jay - Belichick Yo Self
Aaron - Palatine Pirate
Myles - FIERCE FRENCH FRY
Justin - Mini-Commish
Tom - Van Buren Jag
Bill - Janesville Mormon
Commish - KGG Football 2012
Ryan - Bulter Hobo (** newbie **)
Daryl - Lawn Ranger
Poap - Melonville LaRue
Joe - Da No Brainer
Jeff - Fightin Bulldog
Rob - Metal Militia
Ty - Chicago Cake
We have one (faux) newbie right how. Ryan is the Commish's brother (or as he prefers, Justin's uncle), and yes, he's the Ry Rebel from fantasy baseball. We're currently one team short. If you have any prospects, let me know. If we run with 13 that's not a problem. I'll just construct a horrific dummy team that everyone will beat each week. Sort of a faux bye week.
I think that's it. Email me if you have any questions. On draft day, call me on the blower if you have any problems finding the place or whatever.
peace... yow, bill
4. Draft results
Aug 26, 2012
The fourth best Bear... Brandon Marshall (with his BFF Jay Cutler)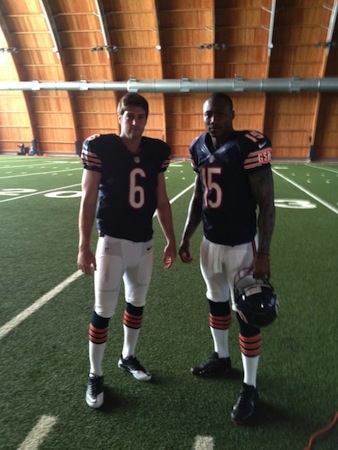 Great draft!
Of course, we start each draft bowing down to our better in every way... congrats to the reigning champ, Ty and the Chicago PinkHat!! Here are some pics of the joyous trophy ceremony. Click on them to make them big-big-bigger.

QOTD
Tourist: "Who is this year's Cam Newton?"
Ty: "Cam Newton!"


Anywho, the Payton34 2012 draft results are here. First, in their original Poap form:
And here's the 2012 draft results, grabbed from our Yahoo league:
For accuracy (and so I don't get my ass sued off), the Militia did not select the St. Louis defense in round 14. He took the Seattle D, but it was already snagged by the Hobo in Round 9 and no one caught it. It happens. The Militia will get his choice of defenses off the scrap heap for free to fix this minor snafu.
Thanks to the KGG for the draft locale and hospitality. Thanks to the Poap for the scribe-work. And thanks to all who participated! I think it's a great start to another outstanding year for the Payton34.
Good luck to all in 2012!
hike... yow, bill
PS - Addendum. I saw this after the fact. Yahoo says KGG deserve the Toyota Best Draft Award.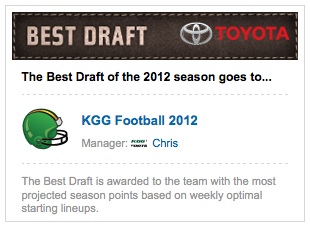 And this is cool. I don't know if it's new or if I just found it. You go to our league and select League/Projections. KGG are projected to win Payton34 in 2012 with an 11-2 record.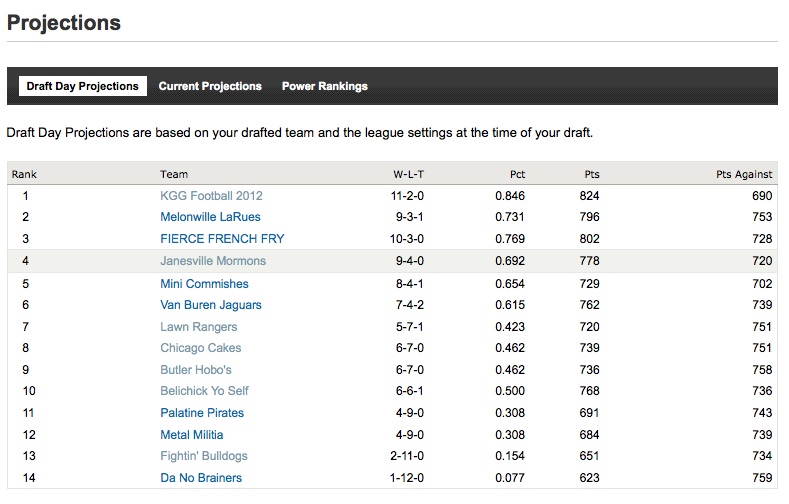 Hey, we'll check back in 4 months. No pressure, KGG. Ha!


5. Final standings
Dec 5, 2012
The fifth best Bear... Lance Briggs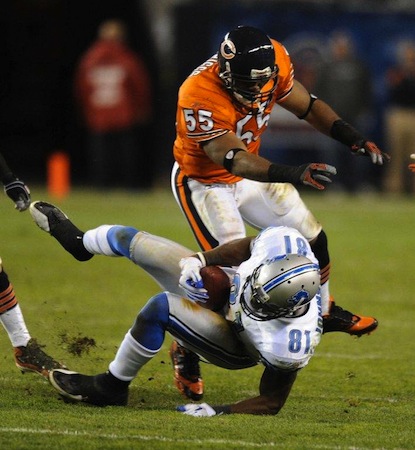 Here's the final standings of the 2012 regular season: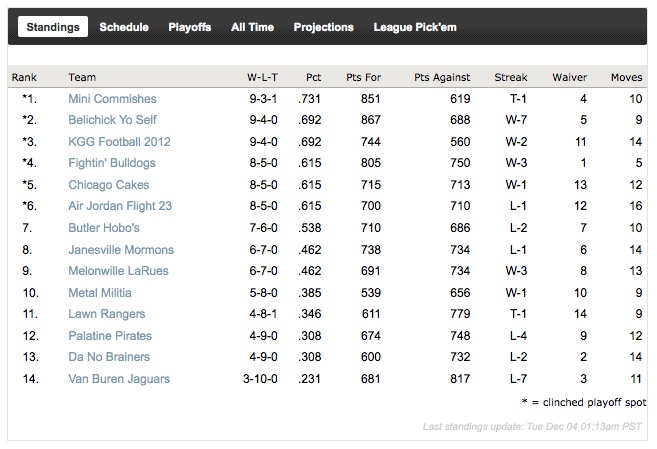 If you want a chuckle, then you can page up to the Draft Results section and check out Yahoo's preseason projections. Comparing to reality, Yahoo's hit rate on picking playoff teams was only 50%.
6. The 2012 All-Payton34 Team
Dec 5, 2012
The sixth best Bear... Matt Forte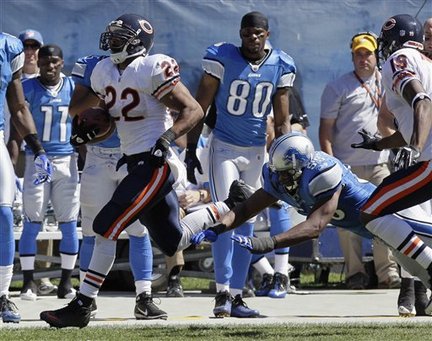 The 2012 All-Payton34 team... the highest Yahoo-scorers after the regular season at each position:
| | | | |
| --- | --- | --- | --- |
| Pos | Player (NFL team) | Team | Points |
| QB | T Brady (nwe) | Jag | 174 |
| RB | Arian (hou) | Yo Self | 138 |
| RB | AP (min) | Yo Self | 120 |
| WR | AJ Green (cin) | Cake | 110 |
| WR | Brandon Marshall (chi) | Yo Self | 102 |
| WR/RB | D Martin (tam) | Mormon | 120 |
| TE | Gronk (nwe) | LaRue | 91 |
| K | L Tynes (nyg) | Mini-Commish | 129 |
| Def | Chicago Bear | Palatine Pirate | 128 |

So, your 2012 Payton34 MVP is Tom Brady (nwe), Van Buren Jaguar.
And of course, Tom is the super handsomest of all as well. Ha!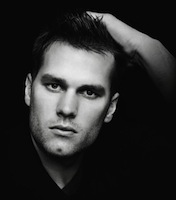 Honorable mention:
QB - RG3 (was) 172, Bulldog
RB - Ray Rice (bal) 101, Mini-Commish
RB - S Ridley (nwe) 98, Hobo
WR - Megatron (det) 92, LaRue
WR - Demarius Thomas (den) 91, Yo Self
RB/WR - Trent Richardson (cle) 95, No-Brainer
TE - Jimmy Grahan (nor) 75, KGG and Tony Gonzalez (atl) 75, Mini-Commish
K - M Bryant (atl) 127, Cake
Def - New England (nwe) 110, Militia
Kudos to the flippin' Belichik Yo Self... 4 of the top 10 RB/WR scorers in the league. That's messed up.
7. Zee Playoffs, Round 1... Wildcard!
12:12 pm Dec 12, 2012
The seventh best Bear... Peanut Tillman (on my favorite play of the year... denying Megatron in the endzone, cha!)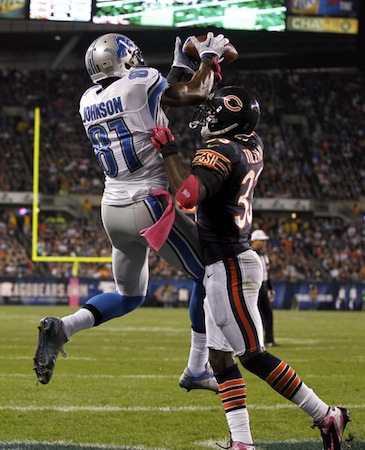 Our top two seeds (#1 Mini and #2 Yo Self) took the week off... letting the little wildcard fishies gnaw on each other while they enjoyed this year's December sunshine.
The wildcard round feature a blowout and a dogfight:
Air Jordan Flight 51, KGG 51... AJF23 wins the tiebreaker
Chicago Cake 85, Fightin' Bulldog 57
Here are the boxscores.



Air Flight Jordan 51, KGG 51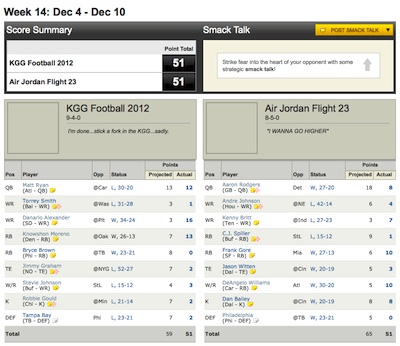 Summary: A 4-point Monday night performance by Andre Johnson pulled the Air Flight Jordan into a tie with the KGG. Based on a week 5 47-43 victory, the AFJ23 hold the tiebreaker over the KGG and advance to live another round.
The KGG tale of woe is mixed. Outstanding performances by scrubs Danario Alexander and Knowshon Moreno were offset by a pregame injury to kicker Robbie Gould and virtually no production out of stars like Jimmy Graham and Torrey Smith.



Chicago Cake 85, Fightin Bulldog 57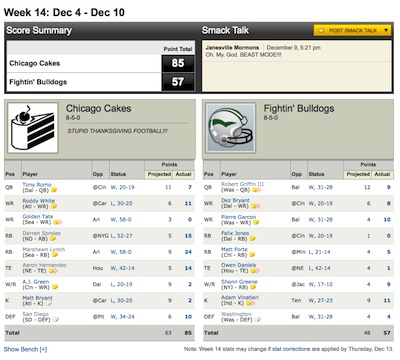 Summary: This was a close game. And then, in the 3:00 game, the Cake went into Beast Mode. Cake superstar Marshawn Lynch rumbled to 24 fantasy points and crushed the Bulldog.
Reigning champion, The Cake, has one word in his vocabulary these days: REPEAT! I don't know if it's coincedence or foreshadowing but... the Chicago fantasy ballclub scored 85 points in round one of the playoffs last year (2011 playoff boxscore) and was led by, you guessed it, Beast Mode Marshawn Lynch.



On to round 2... the Semifinals!
8. Zee Playoffs, Round 2... Semifinals!
The 8th best Bear... Robbie Gould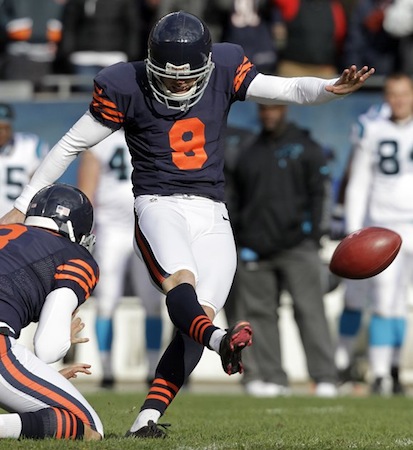 In the semifinals, our top two seeds surged to early leads. The #1 and #2 seed's dreams of P34 glory, however, were dashed. The underdog Cake and Air Flight Jordan both staged impressive comebacks to advance to the Finals. Read on!
Chicago Cake 66, Mini Commish 48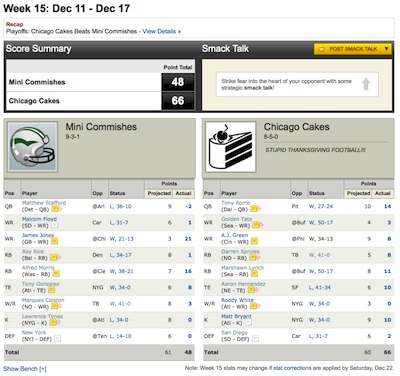 Summary: The top-seeded Mini Commish came out of the box strong with big performances out of unlikely heroes, James Jones (20 points) and Alfred Morris (16 points). Then, the Mini stars crashed and burned. Ray Rice, M Stafford, M Colston and league-leading kicker L Tynes could only tally a combined 2 points. Incredible!
The reigning champ, Chicago Cake, posted solid performances out of nearly every player in their lineup. Six Cake players scored 8 or more points, led by controversial QB Tony Romo with 14 points. The Cake will look to become the first team ever to repeat as P34 champion next week.


Air Jordan Flight 85, Belichik Yo Self 75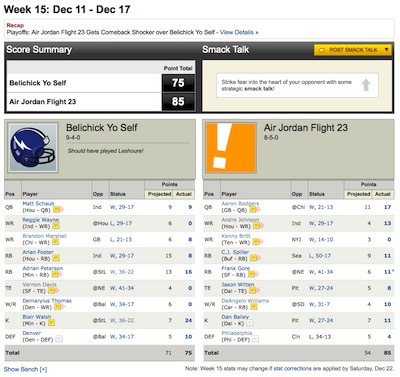 Summary: The Yo Self dominated Payton34 this year and led the league in scoring. The team is absolutley loaded, featuring stars like Arian Foster, AP, and Brandon Marshall. All of the Yo Self stars were on their game for the playoffs. The Yo Self even parlayed 24 points out of Minnesota kicker B Walsh. Belichik rocked the casbah to the tune of 75 points... but it was not to be.
The Air Jordan Flights responded to the Yo Self challenge with an incredible scoring barrage that included 6 of the team's 9 players reaching double digits in scoring. The AJF23 were, of course, led by superstar QB Aa Rodgers' 17 points. The sixth-seed's improbable run continues next week in the Championship round!
9. Zee Playoffs, Championship!
The best Bear ever... Walter Payton!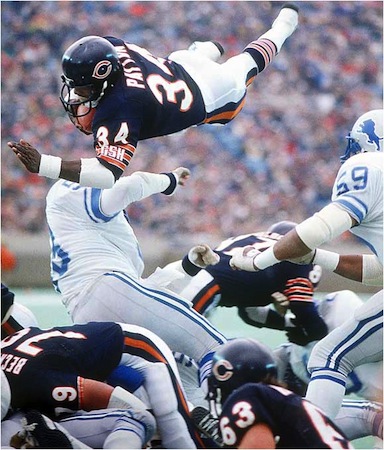 And your (repeat) champion is...


2012 Payton34 Fantasy Football Champion
Chicago Cake
Owner: Ty Krieger


Here's the final 2012 Payton34 playoff bracket: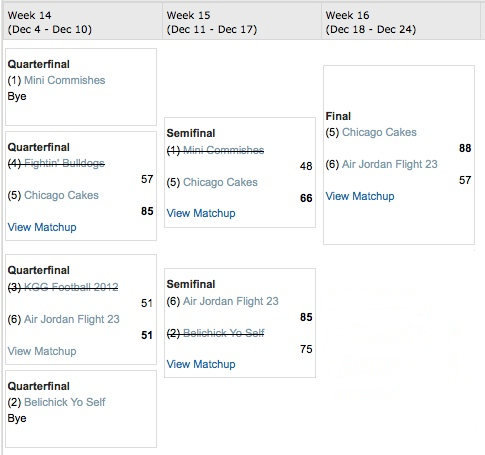 Championshop game results...


Chicago Cake 88, Air Jordan Flight 57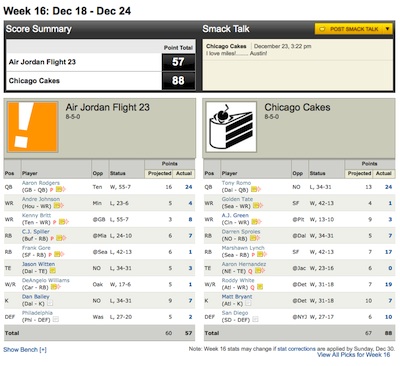 Summary: The Chicago Cake became the first team in Payton34 history to repeat as champion. In dominant fashion, the Cake scored a playoff-high for any team of 88 points. The team was led in the finals by resurgent QB Tony Romo (24) and Roddy White (19). Chicago's leading rusher Marshawn "Beast Mose" Lynch put the "cherry on top" of the title with 17 points in the Sunday night game.
Aa Rodgers carried the Air Jordan Flights with 24 points. The rest of the lineup, however, was unspectacular. It was a great playoff run for the Air Jordan, but the Cake would not be denied their repeat crown. This marks Myles' second appearance in the Finals. The (legendary) FRENCH FRY lost in the 2009 Championship.


So, that's a wrap on another great season. The Cake two-peat is Payton34 history, to be sure. Here are some more nuggets from the 2012 Chicago Cake season:
In the playoffs, the Cake averaged nearly 80 points a game! That is the highest scoring ever in Payton34 playoff history!
The Cake's 88 points in the Championship game is a league playoff record.
In 3 playoff games, the Cake were led in scoring by Beast Mode with 52 points. Cake QB Tony Romo also added 45 points over 3 games.
In our new straight draft format, the champion Cake selected last in each round of the draft.
The Cake won this year by hitting on each their first 5 outstanding draft picks: Beast Mode, Roddy, AJ Green, Aa Hernandez, and Tony Romo.
The Cake were a wildcard team, ranked 5th overall. But the Cake did win 4 of their last 5 games in the regular season as a prelude to their powerful playoff run
If the Cake three-peat next year, we will shutter the league. He he. Until then, congrats Ty. And, en homage, here's the fearsome Chicago Cake logo.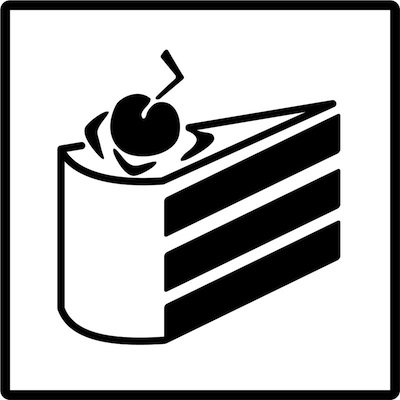 Merry Christmas!
yow, bill