The LP3 playoffs... excellent.
Round1: Semi-finals
Ah, the playoffs... yum yum.
Congrats to our 4 playoff combatants: KGG, Mini-Commish, the frozen head, and the Brawler.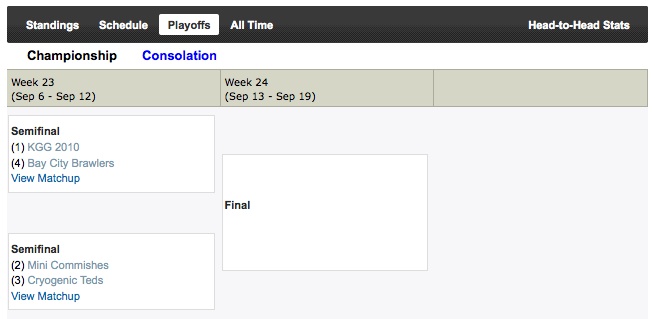 Rout!
The KGG and Mini-Commish both dominated their respective playoff games and move on to the Championship round:
Round 2: Championship
The Martin boys face off in the first-ever father-son title match.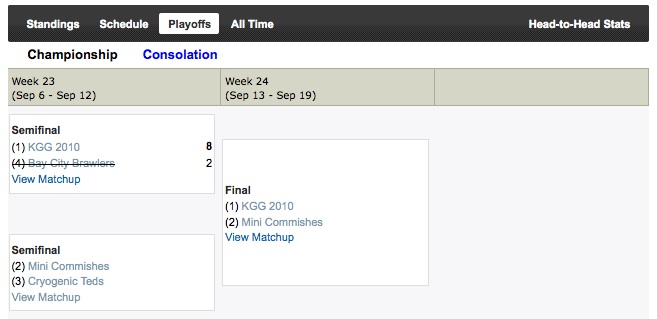 Both teams are red hot, so this should be an excellent title run. There's a lot on the line for each squad. KGG is attempting the first back-to-back titles in LP3 history, and the Mini-Commish are trying to become the first kid to win the coveted LP3 crown.
Good luck, men!
Mini-Commish win... 2010 LP3 Champion!
And the winner is...
2010 LetsPlay3 Champion
Mini-Commishes
Owner: Justin
Justin is our league's youngst champion ever. The Mini-Commish also had the most dominant playoff run in LP3 history with his 8-0 win over the CryoTed, and then 7-1 bashing of the KGG in the finale.
Mini-Commishes 7, KGG 2010 1 (boxscore)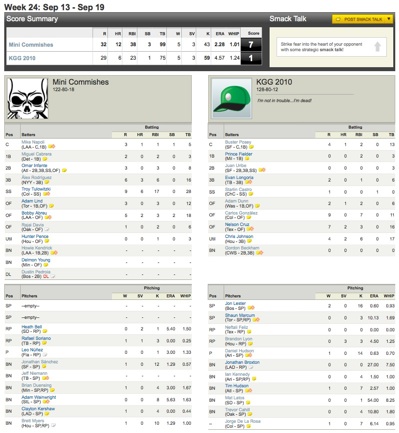 The Mini-Commish's remarkable run was led by superstar SS, Troy Tulowitzki. In the two playoff weeks, Tulo's tally was:
Tulo = 18 run, 12 homer, 42 rbi, and 59 TB
Unbelievable!
Congrats to KGG and the Commish on another great season.
And congrats to Justin on his first title. Great job, Justin!
next year... yow, bill