1. Draft Details
Go:
The 2011 draft is Saturday March 26, 2011 @ 3:30 pm.

It's at The Castle, of course

Show up any time after 2:0

Some brews, some munchies, some pizza or something... you know the drill.

Please don'f be late! Call me on the blower if you're going to be late. Better yet, don't be late.
2. Draft Order
Based on standings from last year, the 2011 draft order is:
Ty
The Poap
Brad, aka Killer Maltese
Myles
Bill, aka williamt, aka me
Rob
Janny
Jay
Commish
Justin
If we get any more newbies (working on it), then they'll draft after Rob.
3. Research
Our Yahoo league provides their own ranking of players, called the "o-rank". Click on Players and you'll find it.
There are a zillion websites out there to help and hinder you. Here are a few, each has its own set of rankings and projections and cheat sheets:
And go buy a magazine, will ya? Live a little, baby
4. Draft Results
Mar 27, 2011
And the results are in... it was a great draft!
Here's the results:
Thank you to The Poap for his outstanding secretarial doodies. Here's his original scroll, for the archives:
Play ball, baby!
peace... yow, bill
PS - Make sure you check out the cool "Champion Justin" pics taken on draft day! They're posted on the "Extras" page at home_plate.htm.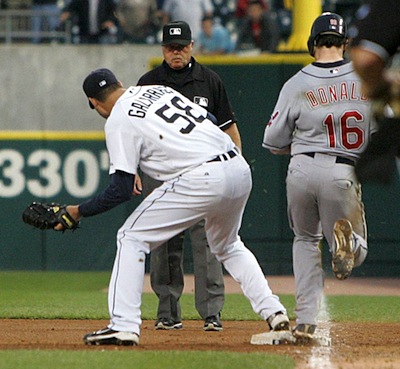 Mini-quiz. That pic above is one of the most famous plays ever at first base. Can you call it?
...
Quiz answer: Frank Chance with 400 SB. Yes, that's "Chance" in Tinker to Evers to Chance. The only player in the top 10 in my lifetime (a long while) is Ryne Sandberg: 4th all-time with 344 steals.
Source: wiki.answers.com/Q/What_is_the_Cubs_Record_for_the_Most_Career_Stolen_Bases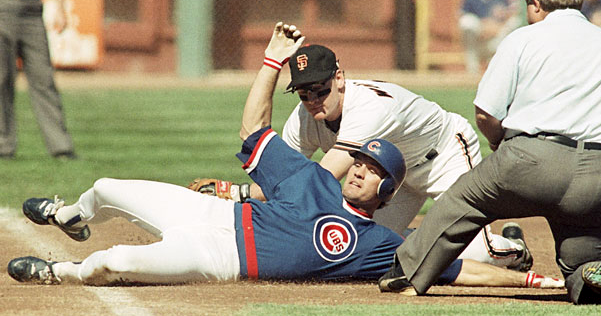 PS - Bonus material... the most famous Cub poem of all-time!
Tinker to Evers to Chance
These are the saddest of possible words:
"Tinker to Evers to Chance."
Trio of bear cubs, and fleeter than birds,
Tinker and Evers and Chance.
Ruthlessly pricking our gonfalon bubble,
Making a Giant hit into a double –
Words that are heavy with nothing but trouble:
"Tinker to Evers to Chance."
By Franklin Pierce Adams
New York Evening Mail July 10, 1910
www.1907cubs.com/tinkers-to-evers-to-chance.php