Payton34 2007 Season
The playoffs ~ Season stats ~ Season notes
The draft ~ Draft results ~ Pre-draft help
My auxiliary page will be minimalist this year. I'm busy. Yeah, go figger.
Anyway, everything is pretty much on this one page. You can click on the sections above or just scroll on down.
Hut. Hut. HIKE!!!
bears... yow, bill
PS - And jeez, don't be such a baby. Email me your questions: williamt@williamt.com
---
The playoffs
Payton Bowl 2007 results:
2007 Payton Bowl Champs
Naperville Zeppelin
Owner: William T Krieger
Zeppelin win! Zeppelin win! Zeppelin win!
Such were the cries heard throughout downtown Naperville, as the Naperville Zeppelin captured the 2007 Payton Bowl in a 60-45 win over the KGG II. Read the game's boxscore for all the details.
The 2007 flavor of the Payton Bowl is:
2007 Payton Bowl
KGG II 45
@
Naperville Zeppelin 60
[ boxscore ]
...
The first round of the playoffs are set!
KGG II 58, Cincy Dark Cobras 37 [ boxscore ]
Naperville Zeppelin 62, St. Charles Sapphire 48 [ boxscore ]
Film at eleven!
yow, bill
---
Season stats
Nov 26, 2007
Well, is it better late than never? Why not!
Here are the season stats. It's the standings each week (for posterity's sake... I plan on visiting this site often from my nursing home bed, if Window 2030 when Windows 2040 isn't crashing) and points scored and the ever-elusive points scored against. Yummy.
God bless Excel... and cut and paste! Go:
Here's the crappy raw data for the season: season.htm
go deep... yow, bill
---
Season notes

Dec 26, 2007
That's a wrap. Thanks to everyone, and we'll see you next year.
And gol dang, I love you TO and Kurt Warner and Brandon Jacobs and Led Zeppelin, and well, gosh, everyone. He he!
just win baby... yow, bill
Dec 18, 2007
Last gasp, I hope. This is my usual player scoring summary, by position:
done... yow, bill
Dec 11, 2007
Well, the season's a wrap, and surprise, surprise your Payton34 MVP is:
Tom Brady (nwe)
of the Cincy Dark Cobras
Of course, Brady is the starting QB of your all-Payton34 team:
2007 All-Payton34 First Team

Pos
Player
Team
Points
Notes
QB
T Brady (nwe)
Cincy
252
2nd round pick, selected right after D McNabb. Dop.
RB
LT (sdg)
Melonville
159
The #1 pick

RB
B Westbrook (phi)
Plainfield
148
2nd round pick

WR
R Moss (nwe)
ConnVick
172
I count 12 WR's taken before Moss was in the 4th round
WR
TO (dal)
Naperville
142
2nd round pick

TE
A Gates (sdg)
Naperville

91

First TE off the board, of course

RB/WR
J Addai (ind)
KGG
137
1st round, 9th pick

K
M Crosby (gnb)
Lawn Ranger
119
Undrafted. 10 other kickers within 14 points scored
D
Minnesota
Hilltopper
116
Undrafted. 8 defensive TD's scored!

And your second-team all-Payton34 is:
2007 All-Payton34 Second Team

Pos
Player
Team
Points
Notes
QB
T Romo (dal)
Lawn Ranger
187
4th round pick. Shame on you Cowboy fans... you know who you are!
RB
AP (min)
KGG
123
The best pick of the draft in round 7 and next year's #1 pick.
RB
M Barber (dal)
St. Charles
112
Sweet 6th round pick!

WR
B Edwards (cle)
Hilltopper
123
8th round steal!

WR
TJ Housh... (cin)
Lawn Ranger
109
3rd round pick

TE
J Witten (dal)
Palatine

81

Tasty last-round pick. How'd that happen?!?
RB/WR
J Lewis (bal),
R Wayne (ind)
St. Charles
107
Both players, same team, same points, 3rd and 9th round picks.
K
N Folk (dal)
Melonville
115
Undrafted.
D
San Diego
Lawn Ranger
106
7th round pick worked out

Honorable mention to KGG's Greg Jennings who scored 105 points this year, just missing 2nd team honors. Interestingly, Jennings was St. Charles last pick of the draft and released in week 1.
money... yow, bill
Nov 26, 2007
You know what my problem is.
There's no topping that Johnny Larue picture below.
Why bother trying.
I guess seeing lousy kids like Myles and Ty and Justin making a mockery of the league up there in 1st and 2nd place doesn't help either. I see you boys up there.
Well, here's one for the boys... Devin Hester asking why he's on the bench after taking two kicks to the house against Denver this week: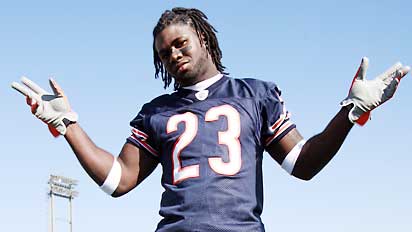 As Ty would mimic, "Devin Hester... you are ridiculous!"
he he... yow, bill
Sep 23, 2007
Eric Schoonover, owner and taskmaster of the Mellonville LaRues: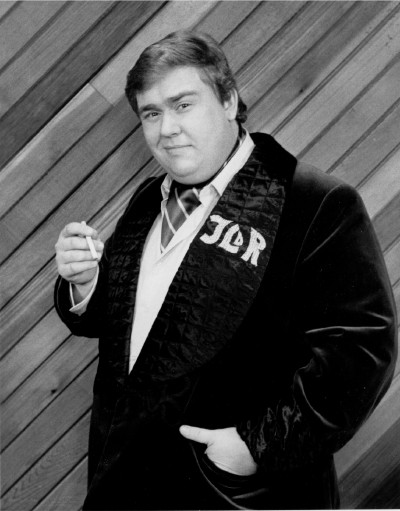 I don't have anything to say that's funnier than that picture. Ha!
Go Sapphire... stick it to the old man, Myles!
later... yow, bill
---
Draft results

Sep 2, 2007
Wow, the draft was Saturday Sep 1 and was great fun. Some highlights include:
Well, the weirdest thing in fantasy football history... the draft actually started a few minutes early. Unprecedented!
We have three kid's teams: Cincy Dark Cobras (Justin & Ty), St. Charles Sapphire (Myles) and Palatine Paladines (Aaron). The kids did an excellent job on their first-ever draft, as I am about to witness first-hand. The beloved Naperville Zeppelin play the vaunted Dark Cobra in week 1!
Eric brought his official draft board. Very cool.
Ginos pizza afterward!
"Steve Smith. Ocho Cinco"... welcome to my nightmare.
Alright, enough reminiscing. Here's the b'ness:
One rule change was voted in. We added another player to the weekly lineup, a RB/WR. We reduced the number of bench players from 6 to 5. The rationale: why do we have all these bench guys... get 'em out there, eh!
As usual, we will have 4 playoff teams, which is the way it's setup in Yahoo (unlike baseball).
The payout is small this year as kids and NCAA-bots didn't/couldn't contribute to the kitty. 2nd place is $50 and 1st place is $250. I still need money from everyone but Daryl. If a non-paying team wins money, then it gets complicated:
The draft order was: Eric, Daryl, Jay, Bill, Greg, Myles, Justin & Ty, Aaron, Chris the commish, and Mark. Greg and Mark drafted in absentia ala a list plus an algorithm.
Click on Eric Schoonover's awesome draft board of mystery™ below for all the flavors of draft results: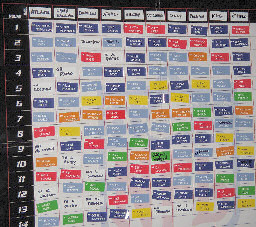 It's the morning after, September 2, at 5:30 am. I'm up early because I had to escort my first ex-wife and her husband to hurricane Felix. Interpretation: I got up to see them to their cab on the way to the Caribbean. Anyway, I think 5:30 am is a new record.
It's always cool as commish in these Yahoo leagues because you get to click the big-ass "Begin Season" link after entering the draft picks. So, I clicked on "Begin Season"... all tingly... and then remembered that I forgot to added the additional RB/WR to our lineup settings. Panic! Not to worry, as Yahoo software is wise and forgiving and let me modify our settings. Ah, life is good.
Everyone have a great season and... Go deep!
thanks... yow, bill
PS - For high-quality photography and mounting, check out www.sentiam.com. That's where Daryl's wife Mindy works. Hey Daryl, how's that for viral marketing! I want stock options, dang it. Ha!
---
The draft
The draft is:
Buy-in is $50... except if you're under 18 or the commissioner of a major (cough) atheletic conference.
Saturday Sep 1 @ 3:00pm sharp... come early and have a brew
At Castle BillSkull... 1219 Bonnema Ct. in Naperville
Call me on my cell if you get lost... 630-215-3961
We'll have pizza and poker afterwards if you're interested
The algorithm for draft order is: loterry teams from 2006, then newbies chosen randlomly, then playoff teams in order of their playoff finish. So, the draft order in 2--7 will be:
Eric (the Poap)
Brad (maltese boy)
Daryl (lawn ranger)
Jay (gurrrrr)
Bill (dating your sister)
newbie
newbie
newbie
Chris (the commish)
Mark (reigning champ, your better in every way)
So yeah, so far we have 10 teams. Our three newbies are: Hilltopper Greg from baseball, Aaron Ziemke (son of a lawn ranger), and the three kids (Justin, Myles and Ty). Yes, we're experimenting with two kid teams this year. If either of the kids' teams wins the league, then the experiment will be discontinued.
---
Pre-draft help
I know that we have our share of newbies, so here are some tasty sites that may have a list you like:
Our Yahoo league site also has player rankings. Click on "Players" at the top. You can see our league rules by clicking on "Settings" at the top. Our scoring is pretty standard though.
If you're newbie, then print out one of these lists and bring it to the draft. Come early and have a brew and ask questions.
Oh, almost forgot. I was googling to find the NFL cheerleader site for y'all and found this: http://www.angelfire.com/nj/nflcheer. It's some goof with a whole mess of NFL cheerleader links. God bless him, crazy goof. Ha!
---
Back to the...
Payton34 Fantasy Football League