Below are the NIBL Notes from the previous weeks of the NIBL season:
Week 21 ~ Week 20 ~ Week 19 ~ Week 18 ~ Week 17 ~ Week 16 ~ Week 15
Week 14 ~ Week 13 ~ Week 12 ~ Week 11 ~ Week 10 ~ Week 9 ~ Week 8
Week 7 ~ Week 6 ~ Week 5 ~ Week 4 ~ Week 3 ~ Week 2 ~ Week 1
---
Week 21 by Bill Krieger (Apr 20, 1998)
Lotsa stuff.
Awards!
First thing's first... the NIBL site is honored to recieve its first award! For excellence in web site design and concept, the NIBL has received "The Michael Jordan Web Site of the Week" award. Luckily, I was able to attend a brief awards ceremony last week.... Check it out:
As I told Michael, this is an award that really belongs to all participants in the NIBL. Without all the little people, like Grama Shell of the Shorewood Sceptres, this award would not have been possible. Michael told me "Congratulations", that he "visited the NIBL site often", and he wished me "good luck beating those flippin' DogEaters in the playoffs." It was a magical night.
More Awards
First off, give it up for the NIBL player with the most NIBL points (1,777) during the 1997-98 season...
NIBL MVP
Karl Malone of the West Chicago Women
Second, drum roll please... the 1997-98 All-NIBL Team:
| | | | |
| --- | --- | --- | --- |
| Position | Player | NIBL Points | NIBL Points/Game |
| F | K Malone (West Chicago) | 1,777 | 42.3 |
| F | T Duncan (West Chicago) | 1,766 | 42.0 |
| C | S ONeal (Glen Ellyn) | 1,316 | 45.3 |
| G | M Jordan (Aruba) | 1,688 | 42.2 |
| G | R Strickland (Ottawa) | 1,434 | 35.8 |
How do you make the All-NIBL team. The All-NIBL team consists of the players with the highest NIBL points/game at each position that have played in at least 18 NIBL games or scored at least 714 points.
If you're interested, based on total NIBL points rather than points/game the leaders at each position are: F - K Malone (1,777), F - A Walker (1,684), C - T Duncan (1,766), G - M Jordan (1,688) and G - G Payton (1,484).
Finally, I have added a bunch of whacky new stats and records to the NIBL Stats Page.
Playoffs!
Catch all the exciting playoff action here:
And In Conclusion
After the playoffs (I assume), Johnny Rai and I will be emailing all NIBL owners to get your input for next season... you know, stuff like are you in for next season? what rules changes would you like to see? should we continue to allow girls in the league? etc...
Fini, Bill
---
Week 20 by Bill Krieger (Apr 13, 1998)
Ahhh, the last week. Kick back and relax...
Bench Warmers - Thanks to everyone for playing your bench-warmers in this last week of the regular season. In the interest of full disclosure, here's how I handled our two incommunicados (non-communicados?), Harlem and Baghdad. Each team had players remaining that had not played, so I flipped a coin and replaced Damon Stoudamire of Harlem with Anthony Peeler, and Baghdad's Larry Johnson with AC Green. Just to let you know.
Whoop Ass - You know that the NIBL aims to please. The Manila DogEaters requested a check of the NIBL archives for a bigger ass-whooping than the 191 point beating they gave to the Santa Fe Salsa last week. Well, sure enough, that is a new record. The old record... in week 12, Glen Ellyn pounded Elk Grove 324-139, a 185 point margin. The most amazing thing about Manila's slaughter, Santa Fe had no zeros for the week... they did, however, have 5 games in single digits. Sorry, Steve.
Playoff Tunep? - In a playoff preview, Walla Walla broke down the Women 244-212. Walla Walla suggested a possible NIBL suspension for Karl Malone, but I doubt that will happen. Even though the Women lost, they still clinched the Western Conference championship... check out your obscure NIBL tiebreakers, if you're interested.
Cellar Climbing - At the other end of the spectrum, Shorewood climbed out of the Western Conference cellar with a victory over the missing Harlem Emerald. Matunuck is clawing its way out of the Eastern Conference dump, by beating Baghdad. Good luck to both Shorewood and Matunuck... the commissioner can root against teams that don't submit their lineups.
Wake up! - Next week we'll have a blockbuster Notes section...
the All-NIBL team
season stats galore: team and player (if you have a stat request, email me)
notes from both commissioner Billy and commissioner Johnny
the playoffs, the playoffs, the playoffs!!!
Rock, Bill
---
Week 19 by Bill Krieger (Apr 6, 1998)
New stuff:
Aruba Thongs clinched as Eastern Conference champions last week! Manila finishes in the number two spot, and the two teams will clash in the Eastern Conference playoffs. I understand that the smack-talking has already begun.
Week 20 Game of the Week: West Chicago at Walla Walla! #1 versus #2 in a Western Conference playoff preview. Walla Walla can still win the West if these three things happen: two more Walla victories, two more West Chicago losses, and Walla must beat the Women this week by more than 44 points (yes check out your arcane NIBL Bylaws on tie-breakers).
I added access to my raw stats data files for those who are interested. Check out the additions to the Stats Page. This information may be especially useful to the owners of playoff teams...
I am proud to present this week's guest note writers... our two female NIBL owners: Shell Evans (Shorewood Sceptres) and Denise Raimondo (Manila DogEaters). Grama Shell got creative on my ass and composed a limerick expressing her feelings about this inaugural NIBL season. Mrs. Raimondo is busy preparing for the playoffs, but she took some time to describe her male-dominating NIBL strategies for the group.
So, I proudly present the works of our fairer sex en toto. I mention, for the sake of completeness... I am currently seeking medical help for the carpal tunnel that I am experiencing after all the punctuation edits required. Hmmm.
Enjoy, Bill
WAIT! I almost fogot. You are required by the NIBL to play every non-injured players on your roster at least once. Here the list of players that must be in your lineup's next week:
A really, really important list
Thanks.
Week 19 by Shell Evans, owner Shorewood Sceptres (Apr 4, 1998)
Ode to a NIBL Season
by Grama Shell Evans, owner Shorewood Sceptres
There was a Grama
named Shell
Her NIBL season
went straight to Hell
Choosing a team
she thought slick
She built a dynasty
around three Knick
Scottie Pippen
was to be her main man
His not returning till February
torpedoed that plan
The rest of her crew
fought a valiant fight
But could not overcome
the other team's might
So, as the NIBL season
winds down with a cheer
From the lips of Grama Shell comes
"Wait Till Next Year!"
Week 19 by Denise Raimondo, owner Manila DogEaters
Hello fellow NIBL'rs
As we approach the end of the regular season, a season of intense nail biting, bitch slapping, and smack talking, I have to say job well done by all, team owners co-comissioner, and I guess Mr. Commisioner himself. Didn't we all have a great time? I'm sure we're all looking forward to next season.
Going into the playoffs I have to say Good Luck to Don Fenton's West Chicago Women (Imagine that women in the league) I bow to thee! Also best wishes to the Amazing, honorable and most Respectable, Bailey Boy's Walla Walla Green Giants (no need for smack) and to Bill Krieger's The almighty Aruba Thongs let me Spell it out for you all, Give me a "W", give me a "E", give me a "D", give me a "G", Give me a "I",Give me a "E" (How'd that feel? Not to good!) My heartfelt wishes to you! May the best of the East (may I Stress Playoff team?!) playoff team win.
Mr. Commisioner + Mr. Co-commissioner On a more serious and personal note, Where's my God Damn Victory Beers? Go New Jersey! Denise
---
Week 18 by Bill Krieger (Apr 1, 1998)
He's baaack... sorry for the down time.
The playoff teams have clinched:
Eastern Conference - Aruba Thongs vs. Manila DogEaters

Western Conference - West Chicago Women vs. Walla Walla BoardBreakers
I know... duh. One is the magic number for the Thong to clinch the Eastern Conference championship. The road is a bit tougher for the Women as they play Walla Walla in a big playoff showdown next week.
Please folks, continue to submit your lineups in our final two weeks. It makes things a lot easier... Thanks!
Yow, Bill
PS - Don't forget the NIBL requirement that you play all non-injured players on your roster at least once. We only have three games left, so I have compiled a list of all the NIBL players that have not played yet. To see the list: click here.
---
Week 17 by Steve Tucker, Santa Fe Salsa (extra mild)
here with this week's NIBL notes, Mar 22, 1998.
Ah, spring is here and basketball is and the madness marches on without many of the teams I picked much like the NIBL. The Women, Boardbreakers, Thongs and Dog-Eaters will be in the first annual NIBL Final Four! The rest of us have already sat back and delivered the heavy sigh of defeat, except possibly a reality impaired spawn, and are already looking forward to next season. Harlem may be the exception here. Rumors are Harlem's front office is in disarray due to frustration and depression with the team's performance and Deon has cut off all communication with NIBL while he seeks guidance with Alonzo.
I would comment on the week's games but don't we all really just hope to be bumps in the road for the Fab Four and try to make a respectable showing for our fifty dollar donations.
Getting back to looking forward...There may be a couple of new faces at next year's draft but I think the return of most teams will demonstrate the "job well done" by Bill and John. I'll be back. Not as Santa Fe though. It seems my son, the fantasy football franchise holder in that town, is unhappy with my presence there. I've been evicted. It's all politics. I will be searching for a new home this off season.
OH BY THE WAY: I thought Matt's makeup was just fine. See you at next year's draft.
Week 17 by Bill Krieger (Mar 23, 1998)
Well, well, well... Dare I take any credit for the Naperville bitch-slapping of the West Chicago Women? As you note-followers recall, last week's notes took a bit of a jab at the now-respected Alien-owner. Well, I guess I lit a bit of a fire under the young man, because the Aliens came out an pummelled the Women 322-272. Go Matt!
Johnny Rai took the helm of the unweildy NIBL software last week as I received extensive snow, sun and alcohol treatment in Lake Tahoe. Consider this a doctor's note, Johnny Rai: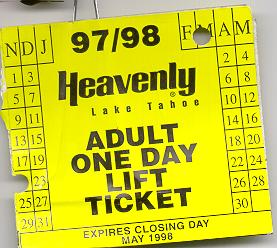 Spring skiing in Tahoe? 5 stars... it's the absolute best.
A couple other games of note... other than the Alien's shocker:
Beast of the East - In the East, Aruba took a strap to the Dog-Eaters and solidified their Thong-hold on first place in the East. Aruba by 10, 304-294.

Bad luck in Vegas - Matunuck upset the Vermin, desperately clawing to get out of the league cellar. Vegas lost by 5. Check out the Vegas stat page... oh, I'll save you the trouble... this was Vegas' 4th loss by less than 10 points. If Vegas is the hard-luck team with close losses, Matunuck is the hard luck team with it's killer high-draft-pick injury list. Vegas won their first meeting... even Steven.

Impotent tools - The Tools blew their chance to close on Manila for second place in the East when the Salsa got Jiggy on them. Cap City is another one of these walking wounded teams with an incredible 8 out of 10 guys on their roster (Gugliotta, Rider, Gatling, Barry, Longley, Van Horn, Ceballos, Pack) having significant injuries or dope habits at one time or another.

C Web returns - The old Chris Webber came back with a vengeance for Elk Grove as they beat the devil out of the Spawn. Like Cap City, are hanging to playoff dreams by a thread.
The playoffs? West Chicago and Aruba are in. Walla Walla and Manila both have a magic number of 1 to clinch their spots with four games to go. Yow!
Thanks, Bill
---
Week 16 by Bill Krieger (Mar 16, 1998)
Fellow NIBL'ers,
Of course, the NIBL is but a diversion from the harsh realities we all face in life. We all realize that. However, at times, reality breaks down the walls of even our little fantasy basketball league...
I site the front page of today's Chicago Tribune, below, which documents the sexual harassment of the Naperville Alien's owner Matt Cowles by the President of the United States, Bill Clinton.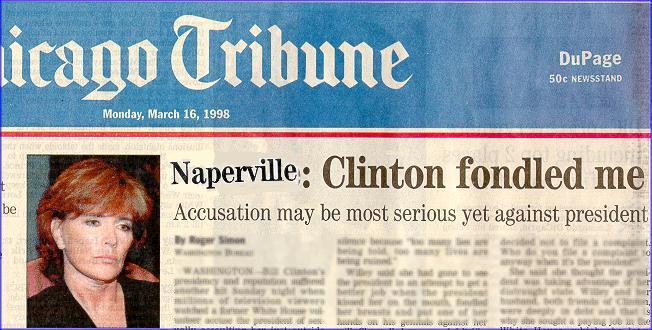 I'm sure you will all join me in wishing Matt the best during these trying times for him, her, ah... Matt. Anyway, Matt... be strong, stand proud and I would lighten up on the makeup a bit.
If you would like to support Matt during these difficult days, click on the Tribune picture above and send him an email greeting.
Thanks, Bill
---
Week 15 Notes by Daniel Bruessel, owner Diablo Spawn (Mar 8, 1998)
Hola,
The Diablo Spawn here to bring you these super exciting notes. We are nearing the ever so fragile last few weeks of regular season play & here is the skinny on the playoff hunt: Aruba and Manila practically have the two Eastern Conference berths wrapped up, unless Manila loses at least 4 games & Capitol City wins the rest of theirs and also has to beat Manila by at least ten points. Hey, It could happen.
The undefeated & just plain silly West Chicago Women are also a VERY safe bet of making the playoffs. But, there is a pretty interesting scenario for the second playoff spot. Walla only has a 2 game cushion over Diablo, and they still have to play West Chicago and Diablo. Plus they haven't played three people from their bench. And to round out the playoff contenders, Ottawa is only 1 game behind Diablo.
Last week's games were business as usual. Aruba squeeked by Baghdad by 4. Diablo celebrates the return of the Admiral by blowing out Shorewood by 108 and in the process ends their 2 game skid. West Chicago gets a combined 217 points out of Karl Malone & Tim Duncan (which would have beat two teams). Harlem, where are you??
My predictions for games of the week are West Chicago VS Diablo & Walla VS Ottawa. The last game between the Women & Diablo there was a combined total of 701 points scored & David Robinson scored 110 in the loss. Ottawa is in a must win mode against Walla & this game could really effect the playoff picture. Same with West Chi & Diablo.
Anyway, have fun & good luck in your NIBLing. And remember, if the Women score more than 400 in a week, free tacos!!
Week 15 Notes by Bill Krieger (Mar 9, 1998)
Thanks for the notes Danny. I would also like to thank the public school system here in Naperville for the extra time I had to put in correcting Danny's grammar and spelling... just kidding.
As commissioner I am, of course, compelled to be unbiased. However (how did you know that was coming), I think we can all maybe observe a moment of silent prayer for young Daniel in his attempt to slay those nasty Women from West Chicago. West Chicago has continued to make a mockery of this league and its participants with its 15th consecutive victory. Adding to their obvious disdain, two West Chicago players (Malone and Duncan) broke the 100 point barrier last week!
To this continued bitch-slapping, I shout (in utter desperation):
GO SPAWN!!!
Beat those flipping Women!
Ugh. Has it come to this... Thanks, Bill
---
Mar 2, 1998... Week 14 by Bill Krieger
Last week
Business As Usual - the Mighty Thong cracked Naperville, the Women handled the Tools , The Dog-Eaters peed on the Strippers
Upset Specials - Matunuck Breakers bounced Walla Walla, the Sceptres conk Santa Fe right on the head, the CrossDressers kissed Diablo... right on the lips
Middle of the Pack - the Cyclones blew away Harlem, Vegas gambled away the life savings of Elk Grove
For those of you keeping score, this was the last week of inter-conference play... seven weeks of intense conference games left until the playoffs. How's that for a switch: Eastern Conference 6 wins, West 2 this week.
Forbes Magazine
Taking a page from Forbes magazine, here's a restaurant review, a movie review and a book review:
Restaurant - Emilio's in Naperville, IL... 4 Stars... the baby eels are excellent

Movie - Dark City... 1 Star... Two clues that this is a bad movie. 1) Michael Wilmington of the Trib gave it four stars and 2) Jennifer Connely is in the movie and is completely clothed.

Book - Fear Nothing by Dean Koontz... 0 Stars... once again don't believe the busters at the Trib. I mean come on... alien rhesus monkeys! Good Lord!
Blah Blah Blah
I added a game history to each team's stats page. Check it out by clicking on your team in the stats page.
I would like to get some other NIBL owners to contribute to the NIBL Notes. Any volunteers? Comment on the games, the NIBL in general, life, religion, politics... All you have to do is email me your comments and I'll format them and add them to the Notes section. Let me know, Bill
---
Feb 23, 1998... Week 13 by Bill Krieger
Bandaids anyone?
Ohhh, that injury bug... another rash (pardon the pun) of injuries to first round picks:
Diablo is sunk by the Admiral's bad knee

Elk Grove up in smoke as Chris Webber medicates his bad shoulder

Shorewood stresses out along with the foot of Rony Siekaly

Cap City jumps into a victory over Glen Ellyn with both feet, but without Tom Gugliotta
Add Shaq, Hakeem, and Ewing to the list of wounded stars and nearly half of the first round picks have missed significant chunks of the NIBL season. Funny... the first round picks of the (as-we-speak) playoff teams, West Chicago (Malone), Walla Walla (Antoine Walker), Aruba (Jordan), and Manila (Garnett) are all healthy as a horse.
Dream or Nightmare?
I don't often dream about men (promise), but after (another) night of heavy drinkning, I traveled to the outer limits of my subconcious, to recall the following dream:
Scene: The lobby of the Admiral Theatre in downtown Chicago... I think I am wearing a flannel shirt. I'm looking around.

me: Don? Don Fenton... owner of the undefeated West Chicago Women... Is that you?

don: Oh, Hi Bill. Or should I say "commissioner".

me: Gosh, Don, you and the Women are on a serious roll! 13-0, what a record.

don: Yeah, I guess.

me: Wow. Pretty laid back for a guy who hasn't even lost a single game.

don: Yeah, I guess. Not unexpected though.

me: What do you mean "not unexpected"?

don: Well, you were at the draft. It wasn't exactly a conference of brain surgeons.

me: Um... jeez, Don, I don't know. Most people did a lot of research going into the draft, and team owners seemed pretty well prepared.

don: (laughing) Research... oh, you crack me up. (doubled over)

me: (not laughing) Well, ok smarty pants, what was your secret?

don: (really laughing now) My secret? (barely breathing) My big secret was just showing up. After that, it was all gravy... Mitch Richmond in the third round! I still crack up when I think of that one. Some rube even took that geek Shawn Bradley before Richmond.

me: Hey. Wait a minute... that was me. I didn't have a center yet. I - I - I (flushed and stuttering) didn't know... I - I figured... uh...

don: Bill, take a pill, you spaz. After going undefeated and on to my ultimate champoinship, I'll invite you all over to watch me throw my winnings on the ground and literally roll in my money. I think at next year's draft I'll sell swampland and heating oil futures as well.

me: You're too much, Don, I just hope you're not over-confident. By the way, who are you going to see at the Admiral tonight?

don: Me? I'm not going to see anyone. I'm performing... performing... performing (echo endlessly and fade into a spiraling swirl)
Dream or nightmare? Analysis anyone?
Harlem Emeralds
Harlem was victorious this week despite the first ever NIBL 25 point penalty for not submitting a lineup (ironic, eh). Deon is in-communicado... He was ill earlier in the year, so if you know what's up, then email me.
---
Feb 16, 1998... Week 12 by Bill Krieger
And I thought high school English was a waste of time... how about "A Tale of Two Cities":
West Chicago Women - The Women obliterated the old game-week scoring record by scoring 392 points against the hapless Salsa. How do you get 392 points? How about... Malone 100 + Smith 66 + Duncan 85 + Richmond 90 + Van Exel 51. Yow!
Elk Grove Cougars - The Cougars might consider a name change to the Pussy Cats. They set a NIBL record as well: the lowest game-week score ever with 139 points. How do you score only 139 points you ask? How about... Webber 0 + Camby 8 + McDyess 54 + Bryant 41 + Stackhouse 36. Yuck!
The old scoring records had stood since week 2. In week 2, Aruba scored 376 points against (you guessed it) Elk Grove. Also in week 2, Baghdad only tallied 169 points in their loss to Walla Walla.
Oh yeah, Elk Grove can also be proud that they took the worst drubbing in NIBL history as well. They lost to Glen Ellyn by 185 points, a new record. Good job Glen Ellyn... you erased your record loss by 140 points to Diablo in week 8.
I didn't verify this, but I think this was the wost week for injuries and suspensions that we've ever had. Zeros were heartily collected by Laettner (flu), Webber (shoulder), Camby (pussy), Penny Hardaway (leg), Larry Johnson (fighting), Juwan Howard (ankle), Gugliotta (flu), Rider (idiot), and Eddie Jones (flu). Of course, the zen of life held true as Weeber and Howard were ringing up the zeros, Ottawa reaped the harvest of extra points for Rod Strickland... 102 points to be specific. Strickland led the league in points this week and also led Ottawa to a close victory over Baghdad. I told you Johnny Rai... Strippers are better than Cross-Dressers every time!
See ya, Bill
---
Feb 9, 1998... Week 11 by Bill Krieger
Big doing in the NIBL again... let's go:
Rules Changes
Johnny Rai and I have filled some of the holes in the NIBL Bylaws. Here's a summary of the rules changes:
Late lineups - There is now an official late lineup penalty. The deadline for exchanging/submitting your lineup each week is still Sunday at noon. If you submit your lineup after noon, then you cannot use any Sunday games in your lineup. Second, if your lineup is not submitted by 5:00 pm on Sunday, then your lineup from last week is used and 25 points will be deducted from your score.
Lineup mistakes - Each lineup include 10 dates, and we've had a few errors over the course of the season. Now, if a lineup is submitted with a date error, then that date is ignored and that player's worst game for the week is substituted.
Challenges - You have 1 week to challenge the outcome of a game. There are many potential sources of errors in NIBL scores (nba.com, my software, lineups, etc.), and but after 1 week, scores are final.
Mid-week trades - If your guy is traded by the NBA in mid-week, then you make up any remaining games for the week with his new team.
Changes to the NIBL Page
I re-designed the NIBL web site... DUH. If you're having a strong visceral reaction to the new design, positive or negative, please email me: wkrieger@ntsource.com.
The games and standings have been split into two separate pages.
The NIBL has a logo now. The logo appears at the top of most of the pages and clicking on it will send you back to the top NIBL page. See:

I've made some significant changes to the NIBL software, and I can now generate season statistics for NIBL teams and individual players. So, check out the NIBL Stats page, if you're interested.
I would never encourage gambling, but one new stat that I can generate is a betting line for each NIBL game based on each player's NBA stats for the season thus far. Check it out in the NIBL Games page.
I fixed all (I hope) tables in the NIBL pages so that they will fit on everyone's screens.
One reminder here at the halfway point of the season: You are required to play all your non-injured players at least one NIBL game of the season. You can see who you have and haven't played in the NIBL Stats page.
Rock on... keep paging down to read Johnny's comments and the announcement of the NIBL All-Star Team!
Thanks, Bill
---
Feb 9, 1998... Week 11 by Johnny Raimondo
Well, here we are at the halfway point of the inaugural season for the NIBL. All in all things have gone pretty smooth considering Bill and I drew up the rules for the league a mere two weeks before we had our draft in the middle of scenic Kauai King Court. Speaking of which I think we all need to give Mr. William T. Krieger a big round of applause for doing such a great job maintaining the NIBL, writing the software for the league, keeping up with errors and mistakes on the part of NBA.com, ESPN.com and the occasional glitch in the NIBL software. Bill this warm can of Miller Lite is for you.
The games for week 11 did nothing but further seperate the men from the boys (no offense Manila and Shorewood), with the top five teams in the NIBL (West Chicago, Walla Walla, Aruba, Manila and Diablo) posting victories. Unless there are some drastic occurrences the eastern conference race appears to be all but over with Aruba and Manila holding onto four game and three game leads respectively. Capital City and Santa Fe are barely staying in the playoff picture, but in reality if you're below .500 are you really in the playoff picture? Glen Ellyn has shown some fight since the return of Shaquille O'Neal, the NIBL's leader in points per game while Vegas and Baghdad are always right in the game right up to the end and then can't buy a victory. The freshly revitalized Matunuck Breakers appear ready to wreak some havoc on teams hoping for a playoff spot. With the return of Penny Hardaway and Hakeem Olajuwon the Breakers are probably licking their chops waiting to get a shot at some of the teams that stomped on them in their injury depleted state earlier in the season.
The Western Conference is a bit more interesting. While Don Fenton and his Women from West Chicago seem unstoppable at 11-0, there are four teams seperated by three games fighting for the second playoff spot. Diablo has won six straight to stay in the playoff race, and Walla Walla, after a 1-2 start, has won an impressive eight straight to rocket into second place. If Elk Grove could stop blowing games with two minutes left in the fourth quarter, they would have a closer view of the West Chicago Women's beautiful behinds, and the injury-depleted Strippers from Ottawa are sinking like a stone. It appeared Naperville was going to stay in the playoff picture, but with two straight losses dropping them to 5-6, they will need an extremely strong finish to catch those in front of them. At 3-8 Harlem and Shorewood would be tied for sixth and still have hope for the playoffs if they were in the eastern conference, but alas, in the obviously more competitive Western Conference the only way they'll see the playoffs is if they contact a ticket scalper pronto.
The NIBL All-Stars
What makes you an all-star in the NIBL you say? Your points and your durability are all that matter today. Neither retarded fan voting nor biased coaches shall stand in your way.
Choosing the players for the NIBL all-star teams was a simple process. Simply choose the players who helped their teams the most by consistently scoring higher than the other players in the league. Durability is a factor because players who miss a game here and there (i.e. Tom Gugiotta of Capital City you flippin f***) hurt their team and themselves by getting zero points in games they were assigned to play in but for one hang-nail or another didn't participate. In the NBA if a player doesn't play it has no effect on his points per game, however, in the NIBL this player is given a zero in a game he was designated as playing by the team coach and therefore hurts his per game average. This drag down effect kept players such as Gugliotta and Chris Webber off the NIBL all-star teams. Now without further ado, here are your first annual NIBL all-stars!
NIBL Eastern Conference All-Stars
| | | | |
| --- | --- | --- | --- |
| Pos | Player | Team | NIBL Ppg |
| F | Hill, G | Santa Fe | 39.5 |
| F | Abdur-Rahim, S | Aruba | 35.1 |
| C | O'Neil, S | Glen Ellyn | 49.3 |
| G | Jordan, M | Aruba | 42.7 |
| G | Payton, G | Baghdad | 36.3 |

NIBL Western Conference All-Stars
| | | | |
| --- | --- | --- | --- |
| Pos | Player | Team | NIBL Ppg |
| F | Malone, K | West Chicago | 41.6 |
| F | Walker, A | Walla Walla | 40.2 |
| C | Robinson, D | Diablo | 39.6 |
| G | Richmond, M | West Chicago | 34.6 |
| G | Stoudamire, D | Harlem | 34.6 |

It is interesting to note, and I suppose expected, that the top teams in each conference are the ones with two all-stars apiece. Don Fenton's Women have Karl Malone and Mitch Richmond representing them while Bill Krieger's Thongs have Michael Jordan and Shareef Abdur-Rahim. I know some of you may be questioning Shaq's inclusion, but he has scored enough points to make his points per game average eligible for consideration (he needed 374 total points to be included). It is interesting to note that while the Western Conference is significantly more competitive than the east (we only have two teams over .500! Heavens to murgatroid!) a sum of each conference all-star teams average points per game shows the east edging out the west 202.9 to 190.6.
This brings us to the conclusion of our NIBL all-star weekend. Bill and I worked out a few additional rules and regulations to correct minor problems we've come across in the first half of our inaugural season. All NIBL owners will be notified of these additions prior to when they take effect on February 15th. Please remember to check your NIBL bylaws about playing all of your players. Just like little league, everyone who is healthy gets a chance to hit so make your decisions wisely coaches.
I'm personally looking forward to the second half of the season and getting Capital City in the playoffs (ha-ha). Hope everyone's having fun. Win or lose just NIBL it!
---
Feb 2, 1998... Week 10 by Bill Krieger
Two notes this week:
For those of you complaining about the size of boxscores not fitting your screen... Please try the week 10 or 11 boxscores and the problem should go away. Let me know if I have fixed your problem. If you notice any problems with the new boxscores, please email me.
Watch for next week's blockbuster notes containing... the All-NIBL team, mid-season stats, and rules clarifications/updates.
Thanks, Bill
---
Jan 25, 1998... Week 9 by Mark Krieger
Hello there- I'm filling in for Commish this week. He's taken an Olbermann-esque leave of absence. So here's the breakdown of last week: It seems that there are a few trends among the teams in the NIBL. The best teams get better and the others just struggle to keep up.
The Eastern Conference leading Aruba Thong beat Cap City with the help of a 103 point performance by Jordan. You can't stop him, you can only hope to contain him.
Tied for the lead in the East with Aruba, Manila sent Matunuck another loss. Manila 285 to 243.
The Glen Ellyn-Baghdad game may have turned out a little different had Vlade played this week. Glen Ellyn managed a 42 point victory behind the 110 point performance of Shaq. Baghdad had two strong performances by Payton and Williams. Each chipped in 73.
Another close game determined by a no-show, the Naperville victory over Harlem. Hunter's absence may have been the deciding factor. Naperville by 25.
Santa Fe slaps Vegas by 78. What more can be said?
The Western Conference-leading West Chi. Women kicked ass again this week, beating Ottawa by 101 points! Ouch! Don, I think that you can put in the reserves now. By the way, Malone had 84.
Shorewood has decided to put up a fight now that Pippen is back in the lineup. Walla squeaks by. Wins by 17.
This is my pick for the squeaker/disapointment of the week (at least for me). Going into the last day of the week, Elk Grove had a substantial 48 point lead with its big guns Webber and Camby to play. Diablo had three players left in Christie, Baker, and Mason. Well, The Diablo guys came to play last night as they nearly doubled the Diablo score by adding 135 points! Webber and Camby could only muster up 71-more Camby's fault than Webber's. Diablo victory 328-312. Webber continues to be the backbone for Elk Grove. He had 89 this week.
That's the end of Week 9. The halfway point is here (sorta). Any ideas/ votes for All-Star candidates? Just wondering. Good luck everyone. -Mark
---
Jan 18, 1998... Week 8 by Bill Krieger
Last week we asked... which team is the best and which team is the worst? The answers: West Chicago and Matunuck. West Chicago slapped Aruba, but I think the game was over-hyped because both teams had season-low point totals in the 292-260 Women victory. Shorewood 255, Matunuck 202... as the Breakers continue to ask "When's Hakeem coming back?"
Some awesome blowouts this week too... Diablo by 140 over Glen Ellyn. By the way, of Glen Ellyn's 207 points, Shaq-Foo had 98 of them. Yow! Previously mentioned Shorewood by 53. The jammin Walla team by 74 over Baghdad... and Cap City spanked Elk Grove by 114 points!
I was fortunate enough to have lunch with the two co-owners of the mighty Elk Grove Cougars this weekend. Sadly, this 100-plus point defeat has started the inevitable finger-pointing and internal bickering that can really hurt a team's long-term outlook. Fellas, it's just Tyrone Hill... don't sweat it and... remember the love. By the way, Camby rocked last week. Sorry, Moz.
---
Jan 11, 1998... Week 7 by Bill Krieger
Screw last week... let's look ahead to two incredible games next week:
Aruba Thongs (6-1) at West Chicago Women (7-0)
First, our "Battle of the Week"... The leader of the East versus the undefeated monster in the West... Karl Malone (Women) head-to-head against Michael Jordan (Thong)... Young buck Shareef Abdur-Rahim (Thong) battling newbie Tim Duncan (Women)... Godzilla vs. King Kong! Good versus Evil! Enough already... The winner will lay claim to the title - best team in the NIBL... for now.
Shorewood Sceptres (2-5) at Matunuck Breakers (1-6)
Second, you guessed it... our "Battle of the Weak". The worst in the West versus the victory-lite East conference Matunuck. What do these cellar-dwellers have in common? Injuries! Shorewood has missed Scottie Pippen all year and Matunuck has schriveled without Hakeem and Penny. Well, this matchup of the last place teams in each conference will settle the nagging doubts that we all have... who is the worst team in the NIBL?
Put your money on the table.
Jan 4, 1998... Week 6 by Bill Krieger
This weeks highlights:
Michael Jordan rips Harlem for 105 points.
West Chicago pulls Dennis Rodman out of their closet for one game... and he is the Women's high scorer for the week with 76 points.
Diablo squeeks by the Tools by 8 points.
Last place Shorewood upsets the first place Manila Dog-Eaters.
Matunuck's injury woes continue: First Hakeem.... then Penny... this week Mashburn. Elk Grove wins by almost a hundred.
Naperville has the second longest winning streak in the league by winning 4 in a row. They pummel Glen Ellyn by more than a hundred.
Santa Fe (and the Atlanta Hawks) can't figure out when to play Mookie and lose to the Ewing-depleted Strippers.
Walla Walla scores 356 points and vaults to second place in the west behind the Women.
It was pointed out to this commissioner by the owners of Elk Grove that the Eastern Conference sucks. If last week is any indication, the elderly gentleman from Elk Grove is correct. The West killed the East this week 7-1, with Aruba bringing the East their only victory. As of this week, only two Eastern Conference teams are above .500.
Enjoy the first full week of the 1998 part of the NIBL season!
Dec 28, 1997... Week 5 by Bill Krieger
Yes, the most common occurences in the NIBL... West Chicago wins, Matunuck loses. The beat goes on.
According to the owner of the (fallen, this week) Spawn, the game of the week was the West Chicago victory over the Spawn by a tally of 366 to 335. Granted, Diablo's 335 points would have won most (oops, all) of the other games, and granted David Robinson set a new single week high of 110 for the Diablo, but those nagging Women remain undefeated. The Women now have a comfy two game cushion over the entire Western Conference.
One could argue, however, that the game of the week was Aruba's squeeker over Vegas. This matchup between the two top teams in the East came down to a double-overtime game in which Kendall Gill was playing. Even with the extra points, the Vermin lost by 3 points and fall to third in the Eastern Conference.
Kudos to Walla Walla for beating Krieger-owned teams two weeks in a row. First, Walla stunned the Thong and handed Bill Krieger's (young) Aruba their first defeat. Then this week, Walla bashes Bill Krieger's (old) Elk Grove Cougars out of second place with a convincing 302, 257 walloping. Congrats Walla.
Dec 21, 1997... Week 4 by Bill Krieger
Two things are becoming clear after week 4. The early favorite for league MVP is Chris Webber. The Cougar's star broke the 100 point barrier for the first time this week. In the first four weeks, Webber has scored 84, 96, 82, and 103 points for a total of 365 points. Awesome!
Second, the West Chicago Women are the only remaining undefeated team in the NIBL. Anchored by Karl Malone, the Women have never scored below 320 points in a week. Yow!
Injuries, suspensions, etc. continue to take their toll, especially at center: Olajuwan, Shaq, Ewing, Bradley... Get your scrubs warmed upand ready to go.
Dec 14, 1997... Week 3 by Bill Krieger
Woah... lots of nail-biters last week: Glen Ellyn by 2, Manila by 10, Naperville by 4. We're down to 2 undefeated teams. The Aruba Thongs are cracking the Eastern Conference and the 3-0 West Chicago Women are nagging the rest of the West.
Dec 8, 1997... Week 2 by Bill Krieger
Two new records in week #2 of the NIBL. Chris Webber scored 96 for Elk Grove to set the new high score for a player. Unfortunately, Elk Grove lost to the Aruba Thongs (your commissioner's favorite team) who scored 376 points to set a new team high. Check out the Aruba boxscore as all five Arubans scored between 70 and 80 points and Michael Jordan was the low point man for the week.
Weird... it's week 2 and we only have 4 undefeated teams.
Dec 4, 1997... Week 1 by Bill Krieger
The first week was fun... and painful. We had some good games (Spawn 2 point victory over Walla Walla), and everyone (eventually) got their 2nd week lineups in. Also, congrats to West Chicago, Manila, Ottawa, and Diablo for their over-300 scores... that's an average of over 30 points/player/game! Also, Karl Malone was the high scoring player for the week with 87 points. This was done without West Chicago (Don Fenton) playing Malone during his most productive game of the week when he scored almost 70 fantasy-points in that game alone.
Oh yeah, the painful part... Johnny Rai and I had to verify the stats by hand because we found some errors in the original data my program was using. I am now using the NBA's numbers, so hopefully everything will be automatic next week.
Wow! Lots of changes and NIBL work done over the past week:
Rewrote our software to link directly into www.nba.com for out results. Hopefully, this will guarantee the correctness of our scores.
I also added a couple new columns to the boxscore: Minutes and Game Role (GR). The "Minutes" is, obviously, the number of minutes played during the game listed. The "Game Role" is the player's role in the game, one of: Starter, Reserve, or Did not play. I added these columns to help people understand how much court time each of their players is getting.
I can now write up-to-the-minute boxscores with midweek scores and stats. Therefore, you can check out the NIBL page any time to get your current game score. Also, after lineups are in Sunday, I will generate empty boxscores containing the lineups and post them on the NIBL page.
I reformatted this page and others. Comments? What would you like to see here? wkrieger@ntsource.com
Two commissioner issues have come up:
In the original Bylaws and Introduction, we said that the final team scores would be divided by two to better map onto NBA scores. We are not going to do this. Everyone seems pretty comfortable with the tallies the way that they are. This is a cosmetic decision only and has no effect on any outcomes.
The big controversy is over missing players. First, the current rule: You cannot, for any reason, replace a player in your starting lineup after the lineup deadline (noon Sunday). This rule was implied, but not stated clearly in the Bylaws. This rule has already been applied a number of times this year (Camby, Olajuwan, Sprewell) and therefore will not be changed this year. After this season, we will open the floor and debate what should be done for players that can't play the games that people designate them to play.
Last item... We're looking for a logo. Can you draw? If so, try a basketball with a nibble taken out of it and send it to me. Thanks, Bill
Nov 30, 1997... Week 0 by Bill Krieger
The NIBL is jogging if not running smoothly. Things, however, are definitely heating up:
The NIBL draft was held Saturday November, 22 at my house. Given my flu-ridden state, I think everything went fairly well. You can check out the draft picks and my notes on the process at NIBL Draft Results.
The most amazing thing about draft day was that everyone also handed in their starting lineups and game selections for Week 1 before leaving. Good job owners!
If you are reading this, then the NIBL web site is up. OK, well it may not be completely up, but it's not completely limp either. We have some graphics work to do (the NIBL logo, any ideas?) and some software to write to automate this crap, but most of the information that people want is there.
Please, please, please let me know your comments and ideas about the NIBL, the NIBL's web page, the draft, whatever. We have had to build a lot of this "in the dark" to get things going, but we'd like to get input from the other owners to help keep the NIBL fresh and alive. Mail me, eh... wkrieger@ntsource.com
Finally, a couple of notes to selected NIBL team owners:
Funniest quote of the draft goes to Tony of Matunuck... "With the fifth pick overall in the draft, I'll take Hakeem Olajuwan." Oops.
Currently, my NIBL game of the year would have to be the Baghdad Cross-Dressers versus the West Chicago Women. A close second... Tools versus Vermin, or maybe Strippers versus Thongs, or possibly Dog-Eaters versus Salsa.
I said it before, I'll say it again. The NIBL's female owners (Manila & Shorewood) did really, really well with their selections on draft day... for women that is.