Posted 09/17/2007

Vatican City burned with drunk looters celebrating the Popes first-ever LetPlay3 title. Read about this exciting vitory here: The Playoffs.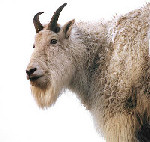 Even the pontiff himself, Pope Benedict (or something), participated in the celebration. In the AP photo to the right, His Holiness is shown blessing and annointing a group of face-painted drunks rolling over a squad car.
No. Wait.
That's not the Pope. It's a goat.
Oh, this is just a redo of that old Simpsons gag with Kent Brockman. Jeez, does Bill have a creative or original bone in his body. Well, maybe not after the Poap's bone-crushing performance in the championship round.
Oh well. Go Cub.
see you next year... yow, bill
Posted 09/03/2007

What is that crappy MLB tag line... Actober or something? Well then, F you Madison Avenenue... welcome to Craptember madness! The LP3 playoffs.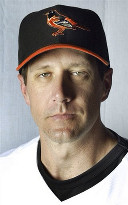 I know lighten the hell up, Bill. Hey, the Cub are in first place. And hey, I heart Lou.
But look at that mug over to the right ---->
Steve Trachsel.
Steve Trachsel?

Jeez, Jim Hendry, I wanna believe, but Steve Trachsel?!?! Ugh.
Anyway, enough whining. It's playoff time. The first-round matchups are... ah, just click on
The Playoffs
to the right over there, right here for that matter. Ah,
The Playoffs
.
As for the 2007 season... a mixed bag. We had a lot of drop-outs, so we have some work to do before next season. All the stats (and more!) are over to the right. Week 22 has the final regular season standings. The Poap has dominated almost from the beginning, and his BPR stats confirm his team as being a full 30% better than the average bear. For those who don't follow the Bill Power Rating, that's just f'ing amazing... even with the drop-outs. The biggest impact of the dropouts was in the winning percentage of all the other teams. It's a tad inflated.
go cub... yow, bill
Posted 03/21/2007


Play ball!
Let's see now, some bid-ness:
Check out the links to the right
Yeah, let me know what you think of the site in general
Really excellent draft, I think... even with the reach-around
BPR auxiliary stats every other week this year
The payout this year... 4 teams make the playoffs:
3rd and 4th place get their money back... $50
2nd place gets $100
1st place Champion gets the rest... $350
Kelly Green is not in for the $$$ (lousy NCAA), and I know it's
extremely
unlikely that his team will make the playoffs, just in case... if KGG finishes 2nd, 3rd, or 4th, then his prize $$$ goes to the 1st place get his dough. If KGG finishes 1st (ha!), then his $$$ goes to the 2nd place finisher.
Can I start off the year with a couple of
Leo Durocher quotes
:
If I were playing third base and my mother were rounding third with the run that was going to beat us, I'd trip her. Oh, I'd pick her up and brush her off and say, "Sorry, Mom," but nobody beats me.

Some guys are admired for coming to play, as the saying goes. I prefer those who come to kill.

God watches over drunks and third baseman.
That last one is for the Poap. Yeah, and that first one's for my mother. He he!
I heart Lou.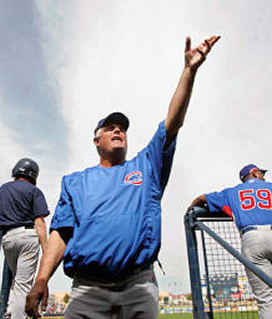 What's he saying in that there photo?
"We're going up, up, up in the standings this year."
Or, "Yeah, the Cardinals are way up there."
Or, "Hey Prior... get out of the fucking stands, ya fag, and come over here. I've got a boot with your ass's name on it."
Maybe, "Over here, Lord. Little help?"
Or maybe he's actually calling for a righty in the pen even before Jason Marquis takes the mound. But of course, pitching coach Larry Rothschild is already asleep and Kerry Wood's doing yoga, so Lou has to scream and gesture wildly to get their attention.
Did you hear about these guys:
www.fireloupiniella.net
?
Punks. Losers.
Must be the Jacques Jones fan club... or Matt Murton's mother-in-law or something... oh no, I got it... it's the ghost of Dusty Baker, whose new gig is designing web sites for men with low testosterone. Yeah, that's it.
Still almost two more weeks till baseball. Argh... I can't stand the wait! Anyone want to trade!
run faster dammit... yow, bill